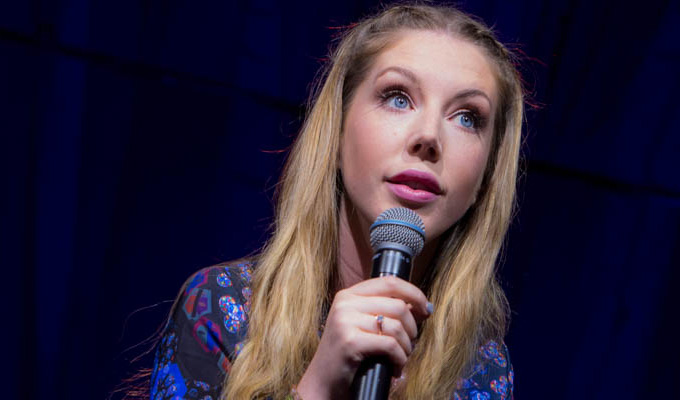 Katherine Ryan at Latitude 2017
The phenomenon of YouTubers has proved that authenticity of personality is the key to fame today. That, too, is the secret of Katherine Ryan's success.
Largely absent from her Latitude set were the acidic zingers aimed at celebrities which had previously earned her plenty of comparisons with Joan Rivers – although her description of the gilded cage Melania Trump finds herself trapped in was spot-on.
Instead, Ryan told the packed-out arena of her own struggles as a single mum, encountering misadventures in relationships while advocating the be-what-you-want-to-be ideals of feminism.
'You can be a Supreme Court justice and still wear a crown of flowers,' she told one youngster in the tent. While in Ryan's own case, it means being a proudly independent woman, coolly glamorous in designer get-up but still obsessed by Love Island and the Kardashians… references to whom largely bypassed the more artistically highbrow festival crowd.
This was not a set of tart punchlines, though there were still a few. Rather, her routine is a combined force of attitude and honesty, to the extent of confessing that several separate stories were all actually the same man, such a common technique of comedy it barely seems like lying.
She tells of going on dates in dresses so impractical she has to wake her eight-year-old daughter, Violet, after a night out to get out of them; of how her relationship with a Jewish man faltered over his faith and how her reaction to another partner's illicit sexting was unequivocal: throw him out. Go girl!
Ryan, though, is more than happy with the life she's got without a man. 'If I was male, I'd be considered eligible,' she adds, explaining that being considered incomplete as a single woman in her 30s is society's issue, not hers. You'd call Ryan the Beyoncé of comedy, had Luisa Omielan not already planted her flag in that ground.
After 45 minutes in her candid company, you feel like mates. She's entertained and uplifted you through a combination of vibrancy, silliness (the Canadian accent she effects as a parody is hilariously bad) and a cheerful 'c'est la vie' attitude to life's ups and downs which she faces with honest good humour. She provided an upbeat ending to a strong weekend of comedy in the Latitude tent.
Review date: 17 Jul 2017
Reviewed by: Steve Bennett
Recent Reviews
What do you think?