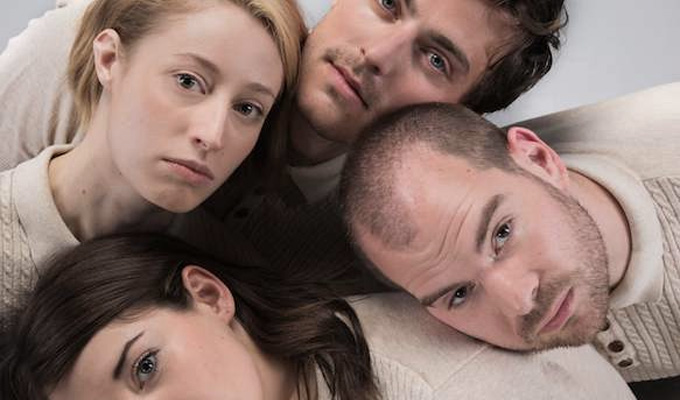 Zazu: Raisins To Stay Alive
When zazU first emerged a few years ago, they seemed a pale imitation of This Is Jinsy, set on a similarly isolated island with a cast of crackpots in thrall to an overruling authoritarian presence and with a peculiar language of their own.
Well, they are still stuck on that island, though they are putting some distance between themselves and their distinctive forebear. Certainly scenes are less self-consciously surreal and slightly more conventional – if that's the correct adjective to use given that we still meet Scouse mermaids, a talking monkey called Yoko Ono, and a plot that involves the imminent 'flipping' of the island, which will spell certain death for all its inhabitants.
To the rescue comes unlikely hero Anden, an inveterate loser mocked by his cliquey office colleagues. He's given the quest to find the raisins that will somehow save Zazu, and get reunited with his long-lost son while he's at it. But first he must negotiate being handcuffed to a woman desperate not to die alone, a sinister child and a gloriously unhinged socialite.
There are some nice gags in the set-ups – such as singing being akin to sex, never to be practised in public – and sometimes in the payoffs, although scenes can just as easily feel indulgent. The quartet love an oddball characterisation, ideally with a strong regional accent, and they defy the sweltering heat to throw considerable energy into performing every one of them, even if they sometimes seem to be doing it for their own amusement more than ours.
The preposterous narrative just about hangs together, even if the story is an uneasy mix of heavily signposted plot points and random leaps of logic. Likewise, the conviction that this is a self-contained world ebbs and flows: is this a story, or just mad incidents thrown together? Odd phrases persist, they say 'g'moo' for hello and 'poother' for father, but the team are not really committed to these needless affectations.
Such niggles fade away when you're laughing, and zazU frequently make their audience do that, often by some brutal twist of plot or attitude to provide the flashpoint. Although several brief intermissions, complete with naff musak, are among the best moments, and the are just silly, apropos of nothing.
However, towards the hour's end, Raisins To Stay Alive is starting to feel as if it's straining to maintain zaniness, give the characters some motivation and tie up the story satisfactorily. But there are enough moments and characters that hit the mark to suggest this might work in a shorter format.
• Zazu: Raisins To Stay Alive is at the Soho Theatre at 9.15pm tonight and tomorrow.
Review date: 21 Jun 2017
Reviewed by:
Recent Reviews
What do you think?