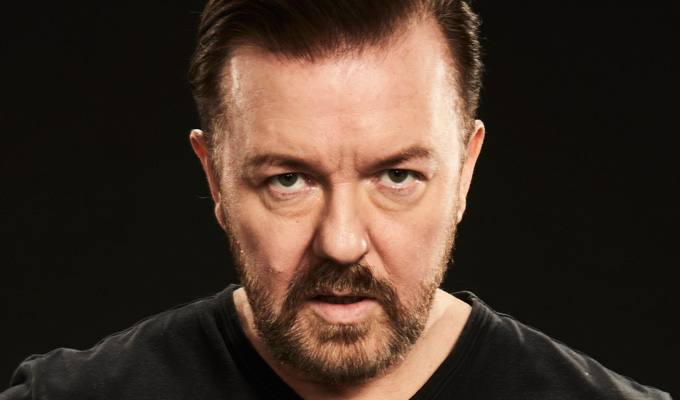 Ricky Gervais: Humanity
Ricky Gervais has never encountered a sensibility he won't stomp on, a trait that's earned him a reputation as an offensive comic – and not without justification.
In Humanity, he's still on politically incorrect territory. But his fifth show is also his most mature yet, not by sacrificing crassness, but by giving it context. And in the seven years since his last stand-up tour, the world has evolved to put notions of 'offence' at the heart of a crucial social debate, lending his provocative stance a new relevance.
Needless to say, 'snowflakes' need not buy a ticket, as Gervais takes a flame-thrower to liberal sensibilities. There are jokes that reference rape, paedophiles, sickening serial killers, Aids, fatal allergies, the Holocaust and transgender issues, while racking up a sizeable body count of dead fictional children.
He traces this impulse for the inappropriate back to his upbringing on a poor-but-proud Reading council estate, where making light of misery was de rigueur and certainly instilled in him and his brother Bob a mischief to giggle at the 'wrong' thing, even their mother's funeral. With this and other reminisces, Gervais melds the personal with the transgressive tone of his stand-up today.
Gervais is, of course, a free speech advocate, claiming those who take umbrage are over-sensitive, often having misunderstood a joke by accident or design to claim a moral superiority. For this is a world in which 'offence' has become weaponised – even Donald Trump's supporters claiming hurt over a critical play as a distraction from policies that have far more concrete consequences on people's lives
Certainly Gervais's shit-stirring routine about Caitlyn Jenner could probably only be used in the 'don't's section of a diversity training lesson, as he flirts with the sin of 'dead-naming' her by calling her 'Bruce', while ramming home the reminder that here is a celebrity who killed someone with their car.
But where this would have once been unadulterated boorishness coming from Gervais's mouth, there's a little more playfulness now – and a smudge of Stewart Lee-style sarcastic repetition – encouraging us all to lighten up, as he flirts with transphobia rather than barging in. And we do trust that he doesn't actually mean every word he says.
The reality whether jokes can be harmful is surely more nuanced than he can get in a stand-up show, but Gervais is constantly amusing as he sticks to his agenda, irritating both left and right of the political spectrum.
Such a stance means he's always getting into Twitter spats, which he rakes over here, a slightly over-used trope in comedy generally, which allows him to relive his victories – the smug 'needless to say I had the last laugh' for the digital era. Though the row he had with the fundamentalist Christian who'd imagined him being raped by Satan is funny in his incredulous response.
There's a couple of familiar ideas, especially his nostalgic yearning for the more polite terrorists of the IRA with their bomb warnings, but as a whole, this is Gervais setting out his stall as a provocateur and misanthrope.
'I don't know why I called it that,' he says of the title, Humanity. 'I'm not a fan.' And indeed there's a stand-out rant about why he hasn't produced any offspring, which has its roots in overpopulation then cheekily encompasses the huge privilege he has acquired.
He prefers animals than humans, as the campaigning tone of many of his tweets attests, and ends on a sincere note, highlighting the barbarity of dog markets in China – perhaps signalling that there are things even Gervais won't joke about, whatever his 'equal opportunity offender' shtick suggests.
• Humanity is on tour until October. Dates.
Review date: 16 Jun 2017
Reviewed by: Steve Bennett
Recent Reviews
What do you think?