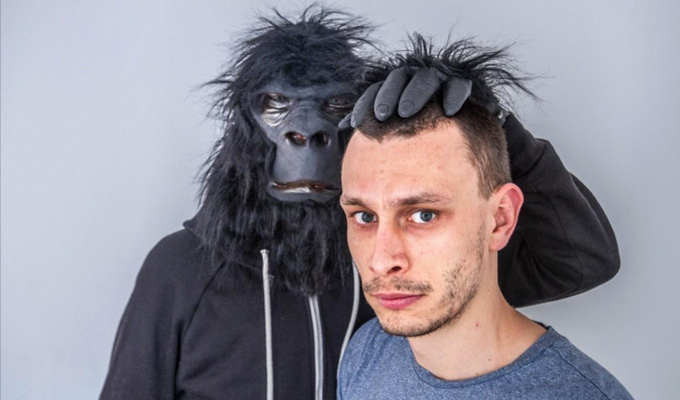 Richard Gadd: Monkey See, Monkey Do
The show that won Richard Gadd the Edinburgh Comedy Award last August was performed in a tiny, sweaty pub cellar, giving an already intense show an even more extreme dramatic impact.
In Melbourne, Monkey See, Monkey Do takes place in a comfortable, air-conditioned modern venue, seating a couple of hundred. But although the potency of intimacy is diluted, the power and significance of his story are not.
The other thing that has changed slightly is that there are more knowing references as to whether his uncompromising and deeply personal story even counts as comedy at all. It may have been nominated for the comedy festival's prestigious Barry accolade, but it is as often harrowing as it is funny, a difficult ride for those expecting an hour of relatable jokes and shared observations.
That tale is how The Incident – a powerful defining moment, details of which are initially kept sinisterly vague – threw Gadd's conceptions of masculinity and sexuality into a tailspin, causing him to be plagued by anxiety. But the prism through which he tells the story is undeniably comic, no matter how rough the ride gets.
One device to give the story a surreal twist is making the monkey on his back a literal 6ft gorilla whom he is trying to flee. That primate also represents his prehistoric brain, with its ancient ideas of masculinity at odds with more evolved thoughts, which he's also trying to escape.
Gadd spends most of the hour running on a treadmill, evoking both the way he literally took to exercise to try to take his mind off his demons and the more metaphorical idea of trying to run from them.
The brutal story is told on a giant screen (unfortunately not completely visible from many seats) with a prerecorded soundtrack depicting his troubling inner monologue. We also hear the awkwardly stilted real-life conversations with his therapist, which slowly draw out the truth, here animated via upside-down mouths with googly eyes on the chins.
All the while he keeps bashing that treadmill, producing a hypnotic rhythm, echoing the pounding heartbeat his anxieties cause, the pace rising in urgency at his most distressed.
This all amounts to a theatrically powerful way of putting across his tale, told as much in Gadd's grimaces on the exercise machine as in the audio-visual extravaganza that assaults the senses. That intensity, plus the weight of the message, means any glimmer of a lighter moment, such as Gadd enacting his participation in an imaginary competition for manliness, come as very welcome light relief.
Monkey See, Monkey Do might not be a laugh a minute, – and there are much easier ways of getting that fix – but it's a clear demonstration of how comic sensibilities can tackle the most gruesome of issues, challenging an audience and communicating big, dark ideas with wit and absurdity.
Review date: 23 Apr 2017
Reviewed by: Steve Bennett
What do you think?