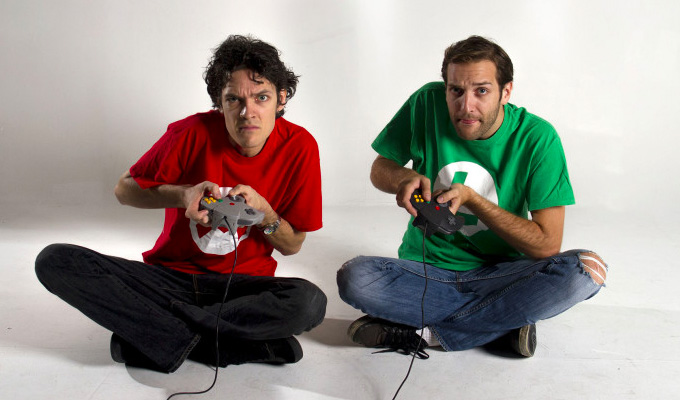 Game Boys: Clash Battle Warlords Age of Candy Robots Royal Strike Kingdom Mobile Legends Saga
It'll come as no surprise to discover that you need to be a gamer to get the most out of this show, whose title need not be repeated. But there's enough context, not to mention sense of fun, to ensure it's easy-going entertainment even if you've never caught a Pokemon or crushed a candy.
The format revolves around a faux keynote speech from a couple of Silicon Valley executives, buzzword-spouting characters which brothers Eden and Josh Porter repeatedly break out of to offer snarky commentary on the state of the industry they so love.
There are nerdy snipes at the piss-poor movies spawned from familiar game franchises (there really is a Tetris film in the works), the ridiculously detailed character customisations on offer (the Conan game offers quite the eye-opener) and how the horrors of war have become mainstream entertainment.
Further breaking up the show are audience contests modelled on classic games, starting with all of us blasting the monsters from Doom. First-person shooters are recreated with Nerf guns and even 'being an audience' gets converted into a Tony Hawks-style simulation. None of this is big or clever, but it breaks the ice and spreads the mood of playful silliness.
When it comes to the sketches, the guys are not the best actors in town, but the passion for their subject is obvious, and the production values high for such a fringe show. They've made graphics, props, lighting effects and even an amusing 'game over' jingles for when. a joke bombs.
The third Melbourne show from the Game Boys is no more substantial than a free phone app, but we all know how diverting and entertaining they can be…
Review date: 21 Apr 2017
Reviewed by:
What do you think?