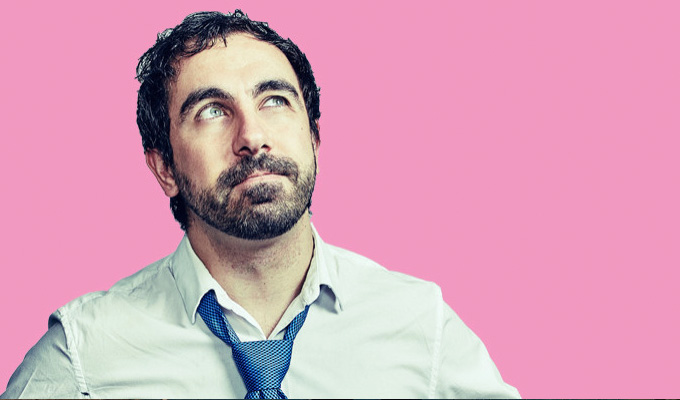 Yianni Agisilaou: The Un-Pinchable Pink Pen
It's hard to imagine that Yianni Agisilaou wasn't aware of Bridget Christie's Edinburgh Award-winning, and now global Netflix special, A Bic For Her when he titled his Melbourne show The Un-Pinchable Pink Pen. After all, there isn't that much other precedent for shows named after sexist ballpoint marketing gimmicks.
Still, he's realised the mistake – and the comparisons that will inevitably be drawn – and will rename the show Pockets Of Equality when it goes to Edinburgh in August.
Agisilaou's current title comes from the story he was told that the number of pens stolen from cruise ships plummeted when they started using pink ones, deterring male pilfering. (Although his follow-up joke that countries should have been coloured pink to them being stolen by the British Empire suggests he doesn't know what colour we painted the maps…)
It's is the first of many informative and entertaining stories about gender-biased behaviour and stereotypes, such as women's preference for taller men – which he argues shouldn't exist – the pressures on women to look good, or whether there's such thing as 'female intuition'. Many such points, such as tabloid obsession with celebrity mothers losing their baby weight, will be familiar to any left-thinking Guardian reader, which means Agisilaou runs the risk of 'mansplaining' feminism, even if he's an engagingly animated performer.
Given how high gender bias is in the liberal zeitgeist, there are lots of comics, usually female, attacking this subject harder and more inventively, For example, most in Agisilaou's audience probably already know that pink was once a masculine colour, while his new title covers the lack of pockets in women's garments, a topic also explored by Fringe Wives Club, and in more depth.
Agisilaou certainly has a plentiful supply of amusing anecdotes and opinions, but can be superficial, dipping a toe into the social pressures, why they came about or why they might be challenged rather than fully plunging in. For example the universal idea that all men are lecherous and driven by base instinct while sex is something that must be 'wheedled out of' women isn't argued as a false binary – other than falling an umbrella disclaimer that identifying traits with gender is inherently bullshit – but rather explored as a behavioural phenomenon.
With his emphatic delivery, this feels like a lively TED talk: more a conscious delivery of a script that highlights the reams of research he's done, rather than trying to achieve the illusion of fluid conversation.
The big point comes at the end, when he uses the revealing contrast in how the audience reacts to two separate anecdotes to expose a deep-seated gender division. It is a startling exposé of the issues he's spent the last hour engagingly talking about.
Review date: 20 Apr 2017
Reviewed by: Steve Bennett
Recent Reviews
What do you think?