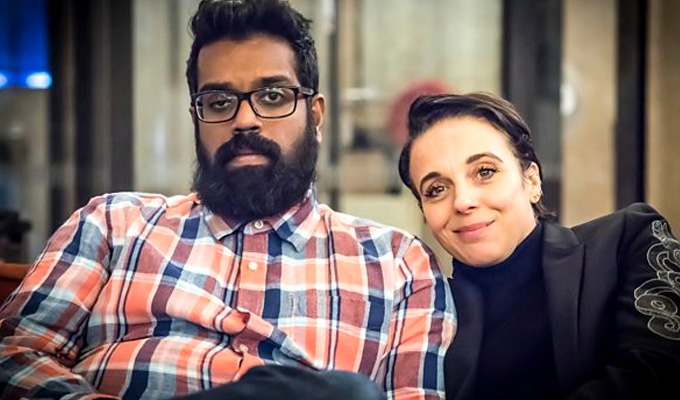 Parental Guidance
Romesh Ranganthan didn't write Parental Guidance, but the Radio 2 comedy was clearly penned for him.
The sitcom Romesh – sorry 'Rosh' – lives in Crawley with his white wife and several kids, and is constantly being denigrated by an overbearing mum whose traits might be familiar to viewers of Asian Provocateur. But most tellingly Rosh is a sarcastic, world-weary fellow, the very epitome of Ranganathan's stand-up persona.
This attitude generates some good lines which props up a well-trodden storyline of the middle-aged character going to the school reunion, which sounds more like a grabbing-at-straws premise for a long-running show than a pilot episode.
Backing this up is an even more contrived plot device of having a 'lie detector' app that pings every time someone isn't telling the truth. There are easy jokes to be had with that, but it also seems as if programme-makers think the listener can't be trusted to spot the gap between what a character says and what they mean, the crux of all drama.
The school reunion is not the only cliché in the script, from BBC radio comedy staff writer Max Davis, which is set firmly in Sitcomland with its often formulaic exchanges. Can writers please stop having characters say something like: 'No way. I'm absolutely not doing that' - then cut to them doing that very thing.
Similarly, when he gets to the reunion, Rosh mocks his school-bully-turned-unlikely-philanthropist by suggesting his goody-goody tales are so obviously made-up that he probably spent time 'helping out at a panda sanctuary with Scarlett Johansson'… and wouldn't you know it? That's exactly what he did.
Such contrivances aside, this pilot episode, the first of several Comedy Showcases being aired by Radio 2 this week, is enjoyable, gag-laden easy listening and very widely relatable – not least through the B-plot in which Rosh's wife Kate (played by Sherlock's Amanda Abbingdon) wonders if she hasn't wasted the stellar potential she had as a straight-As student in settling for suburban domesticity.
But anything relating to a wider issue is very much in the background of standard sitcom fare, funny-ish, but shallow, even if the characters and performances – especially Meera Syal, great as judgmental mum Anusha – are strong.
• Listen to Parental Guidance here.
Review date: 14 Mar 2017
Reviewed by: Steve Bennett
Recent Reviews
What do you think?