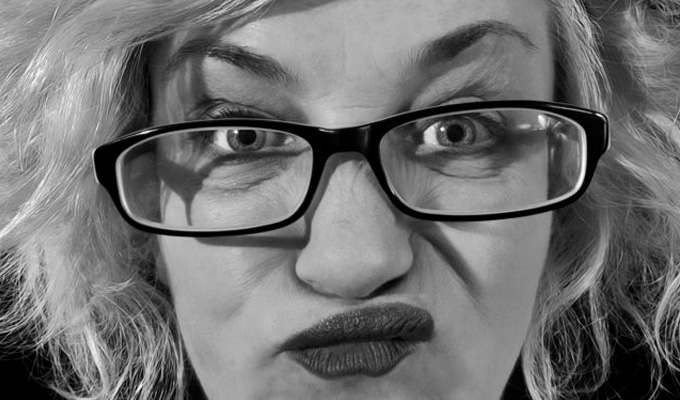 Sarah Johnson: Reminisce
Sarah Johnson's sold-out Leicester Comedy Festival crowd are primed for a lively night out, buzzing with excitement at the show ahead. Though that's not entirely surprising, since almost every one of them seems to know this localish, newish act.
That fact notwithstanding, she's an energetic performer who works to amplify that enthusiasm. She's been a comedy character you can hire for corporate events, among a chequered career that also includes working front of house at Jongleurs, and audiences hold no fear for her.
The party vibe she encourages is heightened by the countless snippets of upbeat hits she plays over the hour as she trawls though her youth with the aid of brief diary entries from the time.
But beyond all this presentational pizzazz, there's not much comedy meat on the bones. She indulges in a lot of namecheck nostalgia, heavily referencing the likes of Double Diamond, Frazzles, Rubik's Cubes or Pan's People in search of laughs of recognition.
PowerPoint slides show the journal entries she reads out, as well as embarrassing pictures of regrettable fashion and hairstyle choices from those bygone years. You can see why her mates lap this up, but the simplicity of this device wears thin.
There are tales of trying to get off with boys – and she proves herself a grande dame of daggy dancing when demonstrating her club moves, while the crowd lap up the music-fuelled fun. But if they are happiest with a karaoke version of Love Lifts Us Up Where We Belong, as served up here, it's not exactly stand-up they're after, but a different sort of entertainment.
The gold standard of this type of comedy would be Luisa Omielan, who puts honest anecdotes, emotional heft and ambiguous swagger behind the boisterous crowdwork, all of which the still-superficial Johnson needs to work on – even if her big personality and raw brassiness go far in making the good times roll.
Review date: 25 Feb 2017
Reviewed by: Steve Bennett
Recent Reviews
What do you think?