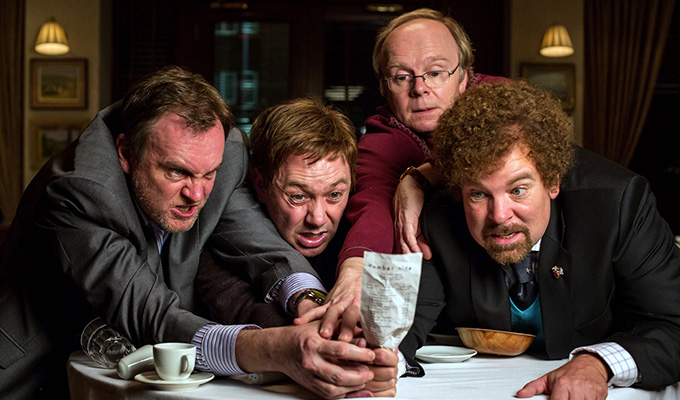 Inside No 9: The Bill
Note: This review is from 2017
It's been a while – the Yuletide release of the none-too-festive Devil of Christmas notwithstanding – but Inside No 9 has returned in style.
Reece Shearsmith and Steve Pemberton have a not undeserved reputation for the elements of horror in their excellent anthology series, but The Bill gets its considerable psychological tension from ramping up the drama of a universally recognisable situation: haggling over the tab at the end of a meal.
The cliched trope would be to have the diners try to get out of their share, but truer to life is the competition to be the bigger guy. 'I'll get this', 'no I insist', here taken to ever further extremes.
To be accurate, Jason Watkins's character Kevin is a penny-pincher, on a tighter budget than his companions, who've all retired to the tapas restaurant after a game of badminton. The careful way he counts money from this wallet, trying so hard not to appear begrudging, is a wonderfully precise piece of comic acting.
As Craig, Life of Mars star Philip Glenister is, as expected, more dominant. He's a newcomer to the group, whose initial generosity becomes a fight for alpha-supremacy over Pemberton's big-fish-in-a-small-pond Malcolm. Meanwhile, it appears there's more than a little resentment between him and team-mate Archie (Shearsmith) which froths to the surface as the four-way argument gets ever more intense.
The mundanity of the setting, compared to some of Inside No 9's more fanciful episode, works to the advantage of the taut, gripping script, as do the credible characters, brilliantly portrayed.
Alongside the bickering males. Ellie White also does a fine job as the East European waitress, wearily waiting for the dispute to be resolved so she can end her long shift.
Being Inside No 9, of course, there's a sting in the tail, and the conclusion is a nicely satisfying payoff… Or rather it would be, were it not for a small logic-stretching coda that doesn't quite ring true, a tiny anticlimax after 27 compelling minutes of escalating dark farce.
Review date: 21 Feb 2017
Reviewed by: Steve Bennett
Recent Reviews
What do you think?