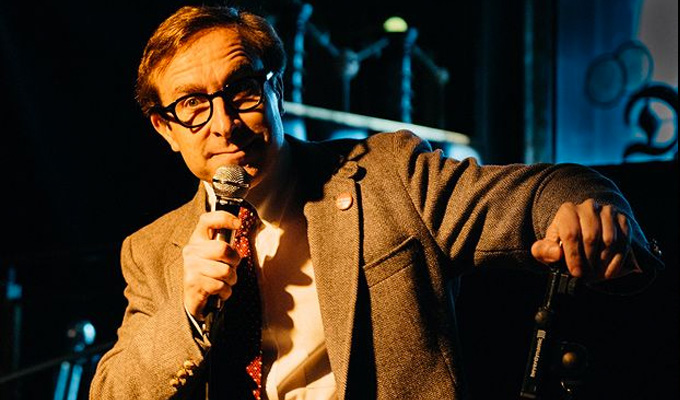 An Hour With Woody Allen(ish)
'I shot a moose once…'
And so begins a classic of stand-up, just one of the exquisitely embellished stories which defined Woody Allen as a pioneer of the form.
In retelling these tall tales, Simon Schatzberger is highly effective in channelling the nebbish New York fretfulness of Allen's early stage persona, with finely-observed neurotic detail rather than broad caricature. He looks the part, but more importantly sounds it, a careful reconstruction no doubt honed from studious repeat listening of those old albums.
Therein lies the rub, of course, since we could all hear the original routines in the comfort of our own home. Even though live entertainment is an infinitely better experience, with any comedy tribute act, the question is, inevitably: Why? Why, for the performer, would you go into stand-up to express someone else's personality? Why, for an audience, would you watch a cover version, however accurate? 
Nostalgia plays no small part, of course and fans here can re-live Allen's ethical dilemmas of doing a vodka ad, the pitfalls of being hypnotised into believing he's a fire truck, or the time he was kidnapped. 
The self-deprecating anecdotes, with their indelible imagery, are sprinkled with deliciously smart one-liners, from cheating in an metaphysics exam to how he acquired his grandfather's watch. Every one of the routines in this 40-minute show is a classic, but isn't 'heard it!' supposed to be a devastating put-down for a comedian?
Schatzberger adorns the routines with no extra context. Whereas most comedy icons are revived on stage as the basis of a wider biographical play, this is undiluted Allen stand-up. It's what the fans want, but whether it will have wider appeal in introducing a modern audience to vintage comedy is a moot point.
Review date: 10 Feb 2017
Reviewed by: Steve Bennett
Reviewed at: Leicester LCB Depot
What do you think?