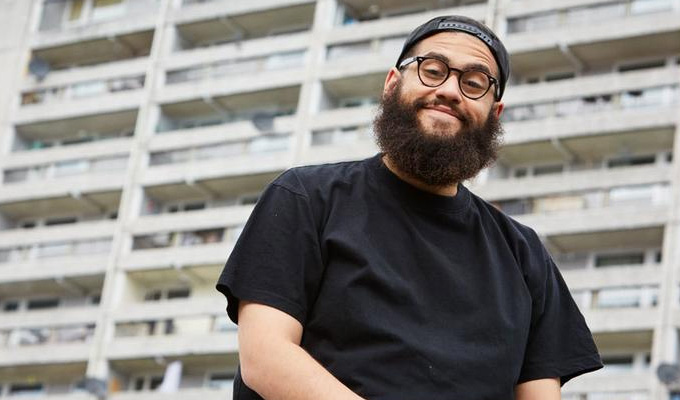 Jamali Maddix: Hate Thy Neighbour
'I am just a comedian,' says Jamali Maddix in the opening credits to Hate Thy Neighbour, amid images of burning Swastikas, guns and mob violence.
For these are the sort of situations the stand-up puts himself into for his new series, proving he may be just a comedian… but he's one with balls of steel.
In this show for the new Viceland channel the former Chortle Student Comedy Award winner travels the world to meet extremists to try to figure out what makes them tick – if it's not a suicide belt – then report back, via a stand-up set.
The timing could not be better with the far-right set to take key White House positions, and on the march in Europe. And while intolerance is easy to mock, there Maddix also makes a genuine attempt to try to understand where the hatred comes from, too.
'The scariest thing is the conviction with which they speak,' Jamali says – and the echoes with the increasingly emboldened political zealots elbowing their way into the mainstream spectrum are loud.
In this opening episode, Maddix takes a trip to Jerusalem gay pride, 12 months after a teenager had been killed by an extremist. In Israel, he hangs out with Ben-Zion Gopstein, leader of the far-right organisation Lehava
Maddix is a mixed-race man who could pass for almost any ethnicity – the perfect disguise for this show, as he charms his way into the vipers' nests.
He asks deliberately naive questions like a millennial Louis Theroux. And while he doesn't ingrain himself with his subjects quite like the older documentarian, he more than makes up for it in front. You'd never see Theroux being physically attacked by a group of far-right thugs as they attend a gay-bashing training camp. Nor would Theroux be on stage talking about the exchange rate of 'pussy' as he dissects their arguments.
Viceland has not been getting the best audience figures, but Hate Thy Neighbour – well-balanced between documentary and comic commentary – deserves a more high-profile slot. It would certainly happily sit on BBC Two, if any acquisition executives are reading…
• Hate Thy Neighbour is on Viceland – Sky channel 153 – at 10pm tonight.
Review date: 23 Nov 2016
Reviewed by: Steve Bennett
Recent Reviews
What do you think?