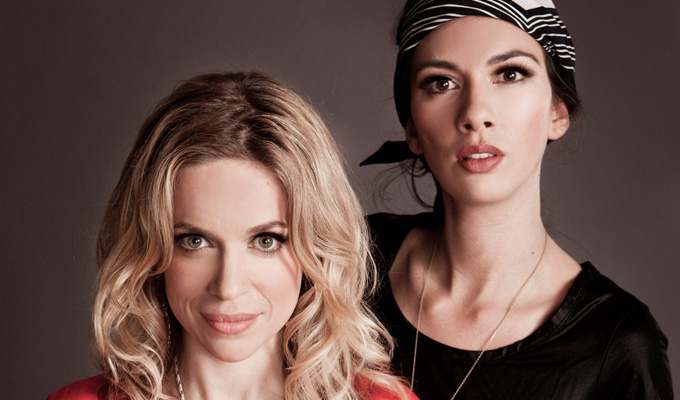 Shirley & Shirley: Not Just A One Night Stand
In their preamble, Shirley & Shirley promise characters, sketches and something called 'scene studies', which seems a bit drama-schooly.
Indeed, Not Just A One Night Stand showcases their acting talents, thought they shine when they throw any ideas of portraying a normality out of the window and plump for brash, odd sketches,which are given the hard sell by the pair's commitment to the absurd.
Funniest is the unpromising idea of a man with a robot partner that indulges his every fantasy, which turns out to be a stock mix of football, curry and cars. But the execution makes it: Pascale Wilson's deadpan automaton contrasted with Joanna Carolan's grubby excitement, a typically energetic performance that doesn't hold back
It's one of several scenes that depict a jaded view of relationships, also seen in an emotionally sterile rich couple, or the pair making a meal of eating out, over-pronouncing the florid adjectives on the menu. Weddings are included in that cynicism, too, courtesy of a speech from an embittered mother of the bride, begrudging the money spent on the bash.
The landscape is usually in the cosmopolitan middle-class, epitomised in an an opening sketch about posh women whose cheeky glasses of wine hide a raging alcoholism. It seems like a calling card – they ask how many people in the audience have seen it before – though it's none too ambitious, especially when compared to their more outrageous scenarios.
They return to this drinking theme later, with a more entertainingly peculiar edge, as Wilson's gregarious Frenchwoman Celine gets increasing sloshed with the 'soupcons' of wine she glugs. And more Continental oddness comes through their bizarre German avant-garde sketch that's amusingly baffling. Like many of the scenes here, it struggles for a punchline, and rather peters out – but the journey is fun, and Wilson and Carolan clearly have a strong, instinctual chemistry.
But it's a little hard to get a handle on the Shirley & Shirley as their tone is ever-shifting. And for all that just being strange is fun, there's sometimes a need for stronger writing to underpin the compelling performances, especially when they use old tropes like dropping their normal well-spoken accents for street patios or high-energy rapping.
With six Edinburgh Fringes behind them (although they haven't been for a couple of years), it feels like Shirley and Shirley are due a break. But they missing extra element that would make them a must-see, rather than just enjoyable when you do Still, they can easily lay claim to being the best Irish-Palestinian, Surinamese-Croydonian female double act on the circuit
• Shirley & Shirley: Not Just A One Night Stand is at the Museum of Comedy at 8.45pm nightly until Friday.
Review date: 19 Oct 2016
Reviewed by: Steve Bennett
Recent Reviews
What do you think?