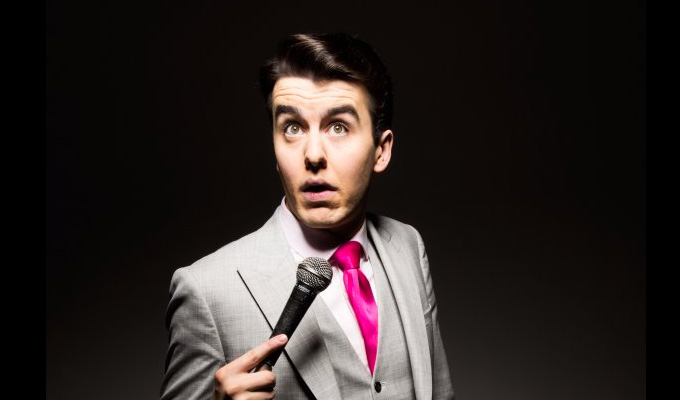 Al Porter: At Large
'This is not an award show,' says Al Porter – somewhat disingenuously given he was nominated for the big prize not hours earlier.
What he means is that there are no grand philosophies in At Large. His making the shortlist shows that while a theme can help carry an hour, it's not essential if you are funny enough. And there is no doubt Porter is funny enough.
He's steeped in camp, Carry On tradition, and couldn't emphasise it more. He begins with a Frankie Howerd voiceover, the opening speech from A Funny Thing Happened On The Way To The Forum. Then he's introduced not as 'your comedian for the evening' but 'your entertainer'. For in his natty three-piece suit Porter has razzle-dazzle running through him. He was born to be on stage.
He doesn't want to be smutty he insists, but innuendo finds him. Still he gets saucy delight in relaying it back to us, comfortingly old-fashioned in its salaciousness. That includes picking a young man to corrupt in the front row. The victim turns out to be 27 – but Porter is, incredibly, only 23 himself. The comedian has all the wanton camp of a man twice his age (and I mean that as a compliment) and the stagecraft to match.
Porter plays up to the camp, indiscreet stereotype which endears him to the audience, but he pulls it back when needed. And there's more to his appeal than excitable theatrics. When he speaks of his time growing up in Tallaght, Dublin, where wearing a balaclava and playing a game called IRA was perfectly acceptable, we see some of the the baser metal behind the shiny facade. This world and the characters in it, such as Sarah 'Maternity' Ward, who had two babies while still at school, recall Larry Grayson and his cast of Nuneaton misfits such as Slack Alice.
There are also shades of Dave Allen when Porter pulls up a stool to tell us his stories, cracking yarns which rarely show him in a good light. They include commandeering a wheelchair; waking up in the strangest place after a night on the sauce; and the most mortifyingly embarrassing incident in a swanky London restaurant when he was trying to impress a commissioning editor. His shame is tangible.
Porter's self-effacing about his limits, joking: 'I wrote this show on a receipt!' But that's nonsense. There's more here than meets the eye – and even if there wasn't, he'd still be a delight. He will surely be the next Graham Norton… just as soon as he stops getting flustered in front of TV executives.
Review date: 27 Aug 2016
Reviewed by: Steve Bennett
Reviewed at: Pleasance Courtyard
Recent Reviews
What do you think?