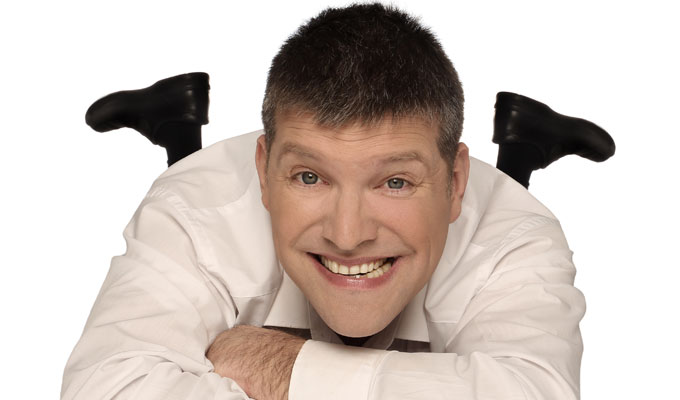 Laurence Clark: Independence
Going to Scotland and doing a show called Independence when it has nary a reference to Sturgeon, Salmond et al is a mischievous move, but then Laurence Clark's hour is laden mischief, whether it's winding up an audience member about helping him with his buttons, or winding up his wife about a job lot of incontinence pads she's ordered.
The independence of which he speaks is 'finding your own way to do things', after leaving school in the belief that his cerebral palsy would make him permanently dependent on others. There are plenty of laugh-out-loud routines as he describes being taught dating techniques by the infuriating-sounding 'Canadian Vicky', and how he works around the difficulty of drinking out of cups.
Clark puts his disability at the centre of the show, with the humour coming from people's misconceptions about it and the situations he finds himself in. The funniest routines come at the top. He has fun with the idea of Daniel Radcliffe getting the lead role in The Cripple of Inishmaan, which happened a few years ago, and the theme of independence gains a layer with his story of going to India to perform at a gig celebrating 70 years of their independence. His confusion and paranoia about what the sign language translator was saying is very funny, despite the routine including the dusty old gag about saying a short sentence that's translated into an extremely long one.
Much of the jokes are visual, or come with visual backup, like his videos called Laughing At Shit Laurence Clark Can't Do, which do exactly what it sounds like they do. If anyone feels – quite reasonably – awkward about laughing at anything related to disability, Clark shows that it can be done without it being victimising or cruel. He's expert at handling the subject with care. Away from the visuals, Clark's droll and understated writing is also a big comic strength of his.
The final routine about an incident in a Virgin Trains toilet does everything a finale should do, but also seems like a variation on stories that many other comics tell. The common fear we all share of those electronic doors opening of their own accord at an inopportune moment, has surely been exploited enough already. Perhaps it wouldn't feel strange in a club set, but it certainly does when it tops off a show that's all about the stark reality of Clark's life.
Aside from that it's a very honest, revealing and warm show with plenty of comic bang for your buck.
Review date: 19 Aug 2016
Reviewed by: Paul Fleckney
Reviewed at: Assembly George Square
Recent Reviews
What do you think?