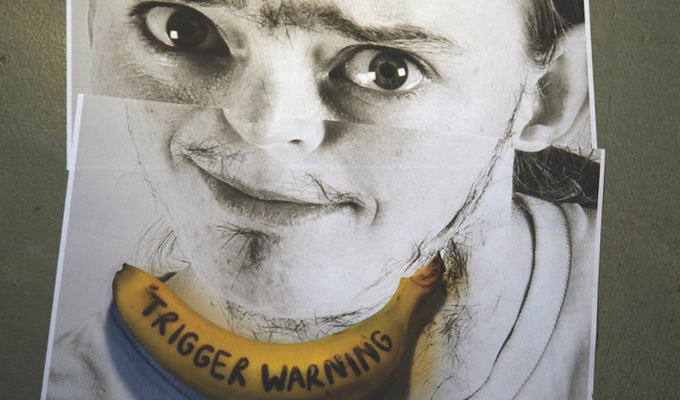 Zoe Coombs Marr: Trigger Warning
Zoe Coombs Marr's inventive, intense and insane hour looks set to be the must-see show of the festival: a takedown of tired comedy tropes that spins wildly into a sinkhole of comic insanity, the likes of which you're unlikely to have experienced before.
Trigger Warning is mostly performed in the guise of her alter-ego Dave, a character who has been making waves for a few years. Superficially, he's a stereotypically lazy, laddish comedian, spouting both a feeble beard and equally feeble cliches about not being able to find the clitoris while desperately imploring: 'The fellas know what I'm talking about!'
He should be a figure of hate and ridicule for right-on, creative comics, but Coombs Marr has made him as empathetic as he is pathetic. Dave's a super-vulnerable man lost in a changing world, battered by feminists' protests. He's forced to realise that his misogynistic certainties about men and women aren't working and that his core beliefs in what constitutes humour – let alone real life – are built on sand.
Desperate to find his place in comedy, he signs up for the Philippe Gaulier clown school in Paris, as so many stand-ups have done before him. Thereafter he tries to reinvent himself as a whimsical mime, complete with Amelie soundtrack as used by The Boy With Tape On His Face.
His attempts are naturally awful, and this 'anti-comedy' section becomes very in-jokey. There are lots of knowing references to please the comedy-savvy who actually know who Gaulier is, let alone local feminist campaigners, but the majority are likely to be baffled.
But do not despair of the self-indulgence, for it emerges that this is merely a stepping stone for the fierce madness that ensues when Dave releases his inner clown… who just happens to be a thirtysomething lesbian called Zoe. And that is just the start of it.
'Like a comedy Inception,' I write in my notebook, about five minutes before Coombs Marr makes the analogy explicit, and delves further into the Babushka doll layers of personas, with costumes, props, callbacks within callbacks and a teetering tower of artifice she not only skilfully keeps from collapsing – a feat in itself – but makes brilliantly funny, too.
Her performance is exceptional, fervent in its insanity, yet able to switch personalities in a nanosecond, jumping in and out of various realities and even stepping out of the show to comment on its madness (and the fact one man was clearly not enjoying it AT ALL) without undermining the complex structure. The result is nothing less than a comedic rush, as you're bombarded with such a cascade of ideas, jokes and images that leaves your head spinning and your heart laughing. This is daring, high-wire comedy at its best.
Reviewed at the Melbourne International Comedy Festival, April 2016
Review date: 29 Jul 2016
Reviewed by: Steve Bennett
Reviewed at: Melbourne International Comedy Festival
What do you think?