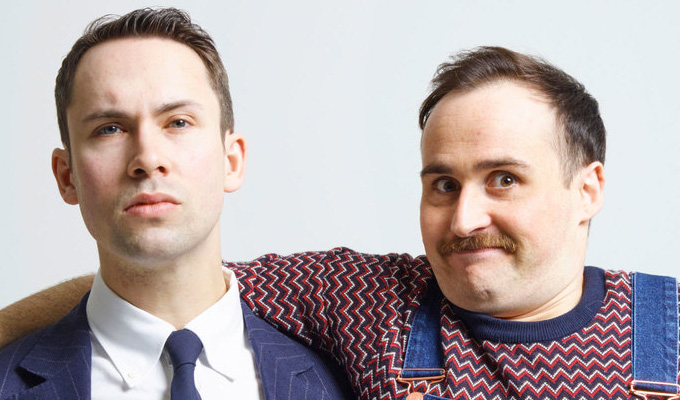 Max & Ivan: Our Story
Max and Ivan tore the Roof of Latitude's cabaret arena yesterday.
And that's not a figure of speech; during an ambitious bit of choreography, Max's foot caught the fabric canopy and pulled some of it from its moorings.
The duo are no strangers to comic destruction, of course, having been the driving force behind The Wrestling extravaganzas at the Edinburgh Fringe; Max having previously earned a living in the ring under the name Max Voltage.
It's those days the pair return to in this show, charting the story of how they came to meet and form a comedy double-act – when debonaire Max was at wrestling school and loveable puppydog Ivan at the scout camp next door. It's billed as the first autobiographical work to come from these dauphins of complex narrative sketch comedy, although you would have to take that with a pretty substantial pinch of salt. The most confessional they get is about the ridiculous haircuts they had back in the day.
Outlandish creations that populate this tall tale include a mysterious masked wrestling nemesis, a recovering drunk undergoing a Jekyll and Hyde transition if he so much as sniffs alcohol, an emotionally damaged Akela and the inappropriate greeting card writer. Actually 'inappropriate' could be an adjective tacked on to any of their exaggerated personalities. And while most of these characters are integral to the plot, a couple have been tacked on as almost standalone sketches.
Our Story boasts some anarchic moments of slapstick high jinks sure to entertain and energise, although with a couple of weeks to go before it's 'proper' debut at the Edinburgh Fringe, there are still lulls, too, usually caused by setting out the narrative that fills between the outbursts of intensity or silliness. 
Crucially the tale itself didn't have enough to hold the audience, whether in terms of rooting for characters or inherent twists and turns (as opposed to weird external agents changing things) – although it should be noted that it is harder to win over a chilled afternoon festival crowd in a half-filled tent than a fringe theatre bunch who don't have other distractions.
The pair's comic acting chops are beyond question, though, and their easy dynamic allows them to riff with each other when things don't quite go smoothly, while keeping the audience in on the joke. But while the climax to this origin story evokes Morecambe and Wise, they don't quite bring enough sunshine for a consistent hour. At least not yet.
Review date: 18 Jul 2016
Reviewed by: Steve Bennett
Reviewed at: Latitude
Recent Reviews
What do you think?