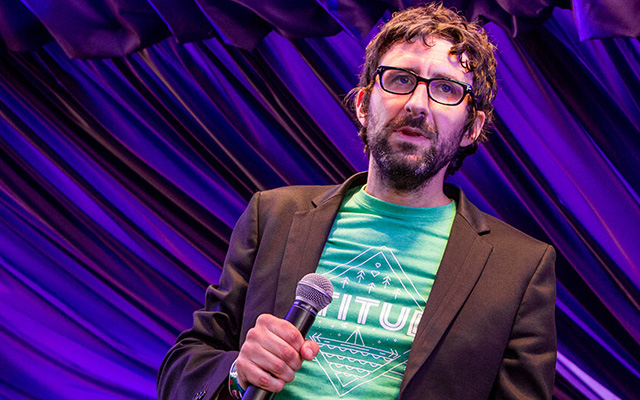 Mark Watson at Latitude 2016
Of the 11 Latitude festivals, Mark Watson has appeared at nine of them. And this time he has discovered a new weapon: 'old-school emotional blackmail'.
For in the audience is his six-year-old son Kit, seeing Daddy at work for the first time. The right audience response could elevate Watson in the youngster's eyes as well as reassuring the comic that he's made the right career decisions, both for his personal prestige and for his ability to provide for the boy's future.
Kit's presence adds an extra frisson for both the audience and for Watson, a stand-up who's always been better than most at working in the moment. Indeed he started his set not on stage, but standing in the sea of punters lazing on the floor. It's a trick he's pulled here several times before, but is no less effective in breaking down the barrier between audience and performer, and emphasising the spontaneous and unrepeatable elements of the session – as well as the artifice of most stand-up.
Watson jokes about being yesterday's man, overtaken in relevance by the likes of Katherine Ryan and Romesh Ranganathan, and now finding himself consigned to the festival's less prestigious Sunday afternoon slot. He's not bitter, he insists, but rather happy to have the weight of expectation lifted from his shoulders. 'Superannuated but still quite good comedian,' is how he describes himself. As always, it's an understatement, as the crowds who thronged to the comedy arena attest. 
But while he understates, he also overthinks – and never more expertly than when deconstructing song lyrics. It's something of a tired trope to take pop hits literally, but Watson keeps his pedantry fresh, even when returning to the idea in the same set with different tunes. And when he encountered the phrase 'effing and jeffing' for the first time this year, you can imagine the fun he had with it.
The trick is putting his own personality into these bits, and Watson is very good at mining his own issues for comedy, from his over-dependence on alcohol to function to ageing – and the way things once thought immutable are now gone. Like Woolworths. There's plenty of neat writing, but the unaffected performance is so natural as to disguise this well.
In the end, Watson didn't need to use his son as an emotional bargaining chip as Latitude always takes him to its heart. And even if the fickle finger of fashion has moved off him, the skill and wit he displayed this afternoon should make Kit proud. But he'd probably still rather have Spider-Man as a dad.
Review date: 18 Jul 2016
Reviewed by: Steve Bennett
Reviewed at: Latitude
Recent Reviews
What do you think?