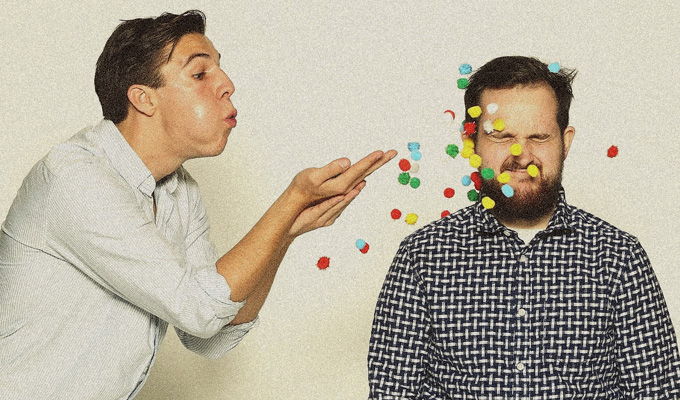 Joseph & Stacy: Live
Joseph and Stacy bill themselves as the purveyors of the 'web's freshest sketch comedy'… though you would be forgiven for having missed them: their most popular YouTube offering has just 670 views.
The two young lads are a likeable but immature double act – sometimes in their sense of humour (Exhibit A: the character in the opening scene called 'Luigi Cuntismell') but more crucially in knowing what their sense of humour is. They have a scattergun approach that defies definition of what a typical Joseph and Stacy sketch might look like; they'll try anything, regardless of fostering any sense of personality.
At its worst this means several glib scenes dropping in paedophilia as a cheap punchline. They try to head off criticism by pointing out how inappropriate they are being, but the ironic detachment is a cheap cop-out here – and elsewhere is clumsily used to weaken jokes that would benefit from sincerity. Typical millennials…
Yet they can make a dark streak work better when they apply themselves beyond the lazy references: notably a children's TV spoof that takes a bleak turn. It's not perhaps the most inspired premise, but it's executed very well.
Their relative lack of experience shows itself in other one-idea scenes that don't develop beyond the germ of the original idea: what if a priest were to tweet secrets from he confessional? And a quick parade of characters not properly developed tries to make a virtue of their lack of depth, but brevity is really their only asset.
Other scenes are old hat: What if we delivered pop lyrics seriously? What if men behaved like stereotypical women on a night out? Yet these sketches get plenty of laughs because of the duo's impishly stupid approach and commitment to the gag. This reaches its peak in their best sketch, a retelling of the Titanic movie from a different perspective; while the easy task of picking holes in the Cinderella stories is pulled off with similar deftness.
For the flaws in writing, the energetic performance goes a very long way, especially Charlie Joseph as the more hapless clowny half of the partnership; smaller, hairier, less sophisticated, a Baldrick to the slicker Tom Stacy's Blackadder . They are largely joyous in their mucking about and playing silly beggars – literally, in one scene – and can be joyful to watch.
And occasionally the lack of the unifying style works in their favour: a crazily surreal slice of avant-garde theatre really surprises – even if the meta callback that they hope explains it, actually dilutes the randomness.
Inconsistencies aside, they are still new enough to find a strength of direction and more consistent depth in writing – especially if they commit to performing in front of live audiences as well as trying to build up a a fan base from noodling about online. Give them a couple of years and they could genuinely be making waves.
Review date: 23 May 2016
Reviewed by: Steve Bennett
Recent Reviews
What do you think?