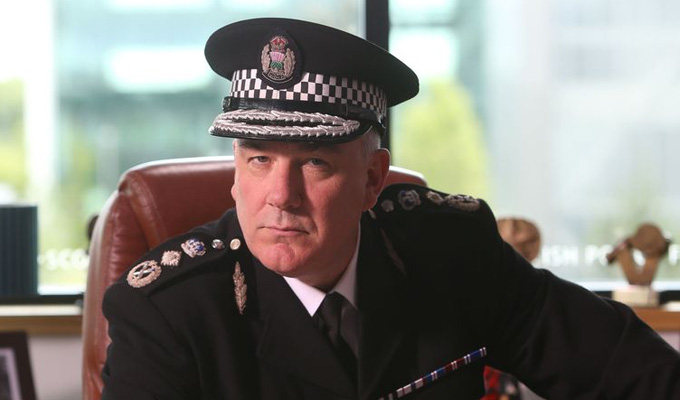 Scot Squad: Chief Commissioner Cameron Miekelson: Tomorrow's Force Today
Since Scotland's police force unified in 2013, the negative headlines surrounding former chief constable Stephen House's brief tenure have been an unquestioned blessing for BBC Scotland's spoof cop documentary Scot Squad.
As House's fictional counterpart, Chief Commissioner Cameron Miekelson, Jack Docherty and the show's creators have effectively been given licence to make him as pompous and gaffe-prone as possible. And yet they've still managed to make the character seem three-dimensional – no mean accomplishment given that his principal interaction is grandstanding to viewers down a camera.
Anyone expecting this rare live appearance from Docherty to be a weak dilution of the television show though, will have been pleasantly surprised. We find out a little bit more about the man behind the uniform here, including the state of Meikelson's marriage in a wonderfully uncontrolled slip of unwitting testimony. And there are brief allusions to other Scot Squad characters. But this ridiculous keynote speech on the future of policing stands alone as a production in its own right, amusing even for those unfamiliar with the series.
A breakdown in communication with his technician ensures that Miekelson takes the stage to the sound of NWA's Fuck The Police. He then bemoans his latest nemesis, the Bearsden and Milngavie Women's Institute, and flourishes a blind person's cane and vibrating love eggs that he's confiscated in a security sweep of the theatre. Happily, these rather heavy-handed gags are atypical of an address that's full of inadvertently witty lines, springing organically from the character.
Standing proudly behind a lectern to deliver his 'state of the nation address', comparing himself to the great and good of the corporate world - and, accidentally, a fascist dictator - the commissioner almost inevitably begins by exceeding his brief, wading into the political quagmire of the Syrian refugee crisis.
His suggestions for tests to ascertain migrants' suitability for British citizenship have a brilliant, bonkers logic, playing squarely to the nation's love of baking and ballroom dancing. And the fallout from these ill-thought-out proposals are destined to come back to haunt him, with no high-profile faux-pas in the social media age going untweeted.
A would-be visionary and 'blue sky thinking' advocate, Meikleson's efforts to rebrand and promote the force are ruinously expensive, over-elaborate and unworkable, recalling his infamous 'Bamnesty' initiative - that well-meaning campaign to persuade Scotland's ne'er-do-well Bams to relinquish their drugs and weapons, immediately sunk by his political incorrect communication.
The Bamnesty is too good a joke not to get another brief mention here. And it's of a piece with a policeman who imagines himself to be a progressive, but who regularly and off-guardedly finds himself reminiscing about the good old days of coppering, when interrogating a suspect meant turning the lights off and steaming in with your boots. Though he relies on a PowerPoint presentation, he's continually foxed by the technology, with the safety of the nation essentially entrusted to his long-suffering, unseen secretary Jean.
Suspicious of Freedom of Information requests and crime statistics, he strives to debunk the latter with a hilariously partial graph display. And some of the heartiest laughs result from an over-candid assessment of the policing demands of Scotland's different regions, with officers being distributed according to how 'mental' various cities are.
A brief cameo from Scot Squad director Iain Davidson makes for a neat callback. And there's a pleasing sense of narrative development as Meikelson is left grovelling about his latest foot-in-mouth episode at the end.
Whether this stays as an entertaining, scripted one-off or a viable tangent from Scot Squad remains to be seen. But a third series of the increasingly assured, improvised mockumentary feels like a must.
Review date: 23 Mar 2016
Reviewed by: Jay Richardson
Recent Reviews
What do you think?