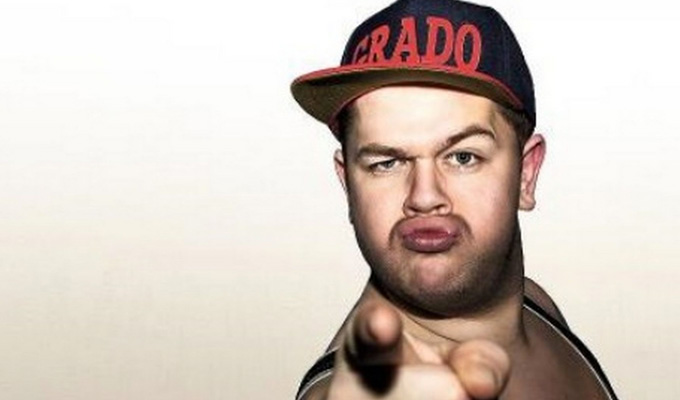 Grado Live: It's Masel'
This was only Grado's second stand-up gig, but as you might expect from a professional wrestler, he really knows how to work a crowd.
A quick straw poll revealed that while there were a few of his comedy and soap opera acting fans in the Kings Theatre tonight, the majority, and unquestionably the most vociferous, were followers of his exploits in the ring.
That was no great hardship for the Wrestling ignorant like myself, because he's a stage natural. As his tales of childhood demonstrate, his self-belief and desire to perform would have seen him achieve fame in some capacity even if his grappling career flopped.
As PC Hugh McKirdie in BBC Scotland's improvised cop spoof Scot Squad, he's the clown to his partner Manjot Sumal's straightman. And he brought some impressive comic chops to this shallow but entertaining mix of childhood anecdote, celebrity tales and daft physical set-pieces.
Bounding out in his leotard to the sound of Madonna's Like A Prayer, he's the first to admit he doesn't have the lightning wits of a seasoned comedian. To be fair, he's sharper than most people would be at responding to the almost constant shout-outs he receives from those who share his Wrestling passion - there's a genuine shared delight that little Graeme Stevely from Stevenston has achieved his boyhood dream.
Mind you, he also takes in his stride the chorus of boos that greets the Union Jack in one of his nostalgic photos, happy to stare down the catcalling like a pantomime villain. And as a last resort, he's got a bumbag full of pre-prepared putdowns that he dips into with a theatrical flourish whenever the need arises.
Like Kevin Bridges, he focuses heavily on the mischief of adolescence but with an emphasis on dodgy celebrities. Those B-listers of Scottish kids' TV and Australian soap opera who opened fêtes and shops in Stevenston, but also the local 'characters' whom you hope would find themselves on the sex offenders register today.
That pattern continued with Grado's burgeoning Wrestling glory. A drinking session in Liverpool with a television semi-legend finishes abruptly when he really put his foot in it, oblivious to some of the latest developments in Operation Yewtree. Such anecdotes are delivered with a wide-eyed cheekiness and acknowledgement of his own stupidity rather than any moral condemnation, ultimately permitting his stomping, Gary Glitter-inspired encore.
Aware of his place in the fame pantheon, contrasting the glamour and egos of his US Wrestling experience with the shabbier, sometimes desperate environs he played while making his name in the UK, Grado feigns disappointment that some of Scotland's crappiest celebs haven't accepted his invitation to join him tonight.
His social media acquaintance with Michael Barrymore prompts an obligatory risqué gag. But more importantly, it's the excuse he needs to host his own version of My Kind Of People, summoning a willing volunteer on stage to showcase his special talent.
Even if the guy hadn't bottled it, leading to the pair of them competing in a cartwheel contest instead, this would have heralded the first moment in the show that could be dismissed as padding. And it's safe to say that when another volunteer was brought up to deliver a chop to his chest, before being revealed as a plant, the disappointment in the room was palpable.
So bizarrely, the professional wrestler struggled with the moments of spectacle but showed a great deal of promise as a raconteur. The affinity between Wrestling and comedy seems to draw closer every year, and Grado is emerging as one of the crossover successes.
Review date: 20 Mar 2016
Reviewed by: Steve Bennett
What do you think?