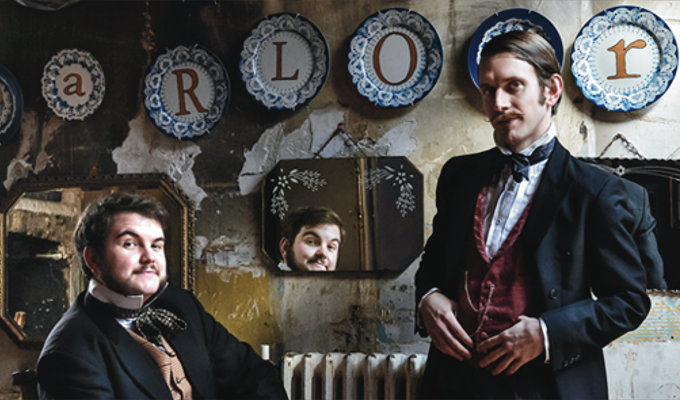 Morgan & West: Parlour Tricks
The setting couldn't be better for a couple of Victorian time-travelling magicians; the elegantly restored Wilton's music hall near Tower Bridge, steeped in entertainment history.
Morgan and West maintain their theme in dress-coats, elegant facial hair and a set decorated with the lithographs and period furniture of a late-19th Century drawing room
The sense of history continues as they are tapping into an old-school variety vibe – the last double act with the initials M&W did all right for themselves; although physically this duo are more Laurel and Hardy (complete with the occasional finger twiddling) than Morecambe and Wise. They have well-practised banter, snippy with other, but only a bit, and their personas are a little elastic, with Rob West affecting a weary acceptance for the final escapology trick with little discernible reason.
Their tricks, too, are of the old school, using cards, blindfolds, cups and balls more than anything contemporary – although the simple old-fashioned presentation is a gimmick in itself, and rather charming. However when the old glass-bottle/bottle-glass props get an early run-out, unflattering comparisons with Tommy Cooper are inevitable.
It's the mind-reading tricks that fit the aesthetic best, as well as being the most incredible. In the first half, Rhys Morgan gradually loses each of his five senses – yet still demonstrates unfathomable perception in a sequence of hugely impressive feats.
And if you're a QI fan who pooh-poohs the received wisdom the human body has only five senses, Morgan and West are ahead of you there, as there's a scientific base to much of their presentation, as befits any learned gentlemen of the Empire. Even a simple 'where's the ball?' trick becomes an illustration of quantum waveforms that only collapse when observed (and don't worry if the theoretical physics goes over your head, just chalk it up to 'magic').
Their maths addiction reaches an apex when West's astounds with his mental gymnastics on a randomly-generated 40-digit number he commits to memory. This is the one time we do need some modern technology to check that the complex arithmetic is correct. And it's an impressive feat of brainpower when it is revealed to be so.
Before this near-finale come a couple of slower tricks that could do with an injection of pace, but overall Parlour Tricks is a classy presentation of prestidigitation, with a couple of outstanding set pieces to leave you scratching your heads. Spiffing!
Review date: 21 Jan 2016
Reviewed by: Steve Bennett
Reviewed at: Wilton's Music Hall
Recent Reviews
What do you think?