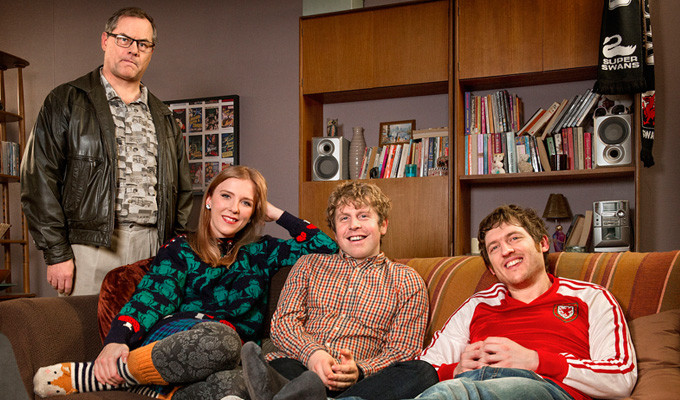 Josh: Episode 1
Telly commissioners always say they're seeking distinctive voices in sitcom – and we've got a lot of them that fit that bill. From Catastrophe to Toast Of London; People Just Do Nothing to Detectorists.
Josh isn't quite like that. It's a perfectly OK twenty something flatshare sitcom for BBC Three's demographic, but on the evidence of episode one, doesn't have the strong personality of its peers.
Why, then, did the BBC pick it up from what must be a glut of similar scripts they get sent? It's surely down to the currency star and co-writer Josh Widdicombe has accumulated from the Last Leg.
Like almost every stand-up moving into sitcom, his screen character is not a million miles away from his stage persona; a rather woebegone young man, exasperated at life, and his own failings in it.
The Josh character shares a flat with the quietly confident Owen – Elis James's performance being the best thing about the show – and Kate (Beattie Edmondson) who's almost as hapless as he is. Then there's the obligatory weird neighbour role, in this case taken by Jack Dee as fogeyish landlord Geoff. It's hard to have an irritating character that doesn't actually irritate the viewer, and the jury's probably still out as to whether Dee's achieved this.
Episode one's plot has holes you could drive a platoon of tanks through, as Josh is invited to a hated pool party, but decides to go because of a girl. Big problem: he can't swim. Never mind that that the pool's shallow enough to stand in, that admitting his weakness probably wouldn't be an issue, or he could just not go in the water – you need to suspend disbelief here.
The script, written with fellow stand-up Tom Craine, is a little one-note in its sense of humour, too. There's lots of jokes based around the punny nicknames Kate garnered for her habit of biting when kissing, while she makes similar puns herself when nervous. It is typical banter of the age group, and they try to have it both ways by acknowledging the limits of the humour.
Also some of the jokes sound very samey, no matter which character is sayin them. In one scene Josh highlights Geoff's oddness by asking: 'Are The Boy In The Bubble?' In the very next, Owen asks of Kate's idiosyncracies: 'Are you Banksy?'
For its failings, Josh (which has been directed in straightforward manner by David Schneider) is watchable, entertaining and amusing, but it rather washes over you. A solid effort, and another stepping stone on the careers of all those involved, but unlikely to go down as a classic, and faring poorly when watched back-to-back with the superlative Peep Show.
Review date: 11 Nov 2015
Reviewed by:
Recent Reviews
What do you think?