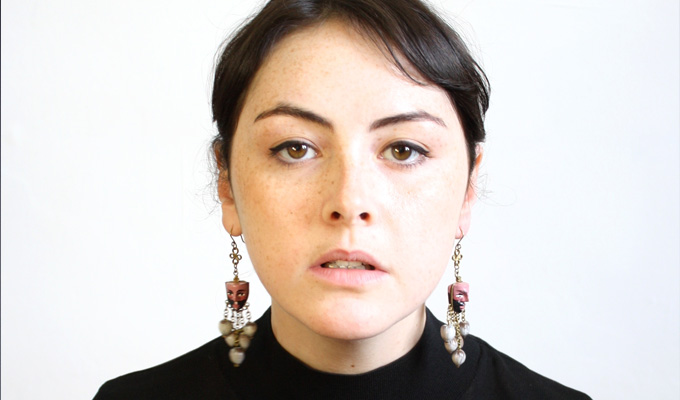 Emma Sidi: Character Breakdown
It can be hard to stand out among the many one-woman multi-character shows that come to the Fringe each year, but Emma Sidi does it, thanks to several inspired choices.
The first comes with her opening character Brita, a lively weirdo obsessed with April Fools' Day who has a genuinely unique accent, with vowels battered like a Belgian tried to learn English from an Ecuadorian who learned it from Loyd Grossman. Or something.
It sets the message that the show is going to have a different tone – literally – as well as wringing extra laughs from the off-kilter accent. But it's not just a silly voice, this peculiar figure regales us with yarns of her pranks that, reveal more about her loneliness than she realises, making her a rounded creation as well as an oddly funny one.
Another sense of distinctiveness comes from the scene transitions. After she's done with each persona, Cambridge Footlights alumnus Sidi poses in silence for a couple of seconds as a backing track kicks in, then indulges in some oddly choreographed interpretive dances around the space and back to her costumes, ready for the next scene. It shows an attention to the smallest detail – hell, she even drinks her water in a comically eccentric way.
Then there's a sketch conducted entirely in Spanish which nonetheless conveys the lecturer's heartfelt message about the feminist agenda in the Harry Potter books with verve and wit, again showcasing Sidi's physicality as well as her sense of absurdism – and her daring in performing in another language.
Even more apparently straightforward characters, such as the unpopular sticker of an office worker Sarah, despised by her colleagues, or the empty-nester parent fretting about her son heading into the world on his own, are given inventive twists.
Taken individually, these scenes are quirkily amusing, but there's something about the cumulative effect of all Sidi's small idiosyncrasies that gets under the skin, thoroughly winning over the audience and making Character Breakdown so much more than the sum of its parts. It certainly identifies Sidi as a creative new comic force.
Review date: 18 Aug 2015
Reviewed by: Steve Bennett
Reviewed at: Pleasance Courtyard
What do you think?