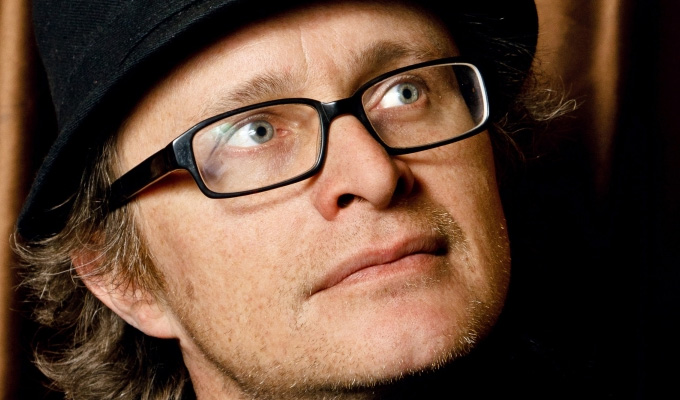 Simon Munnery: And Nothing But
Note: This review is from 2015
'It's like a scattergun. Some of it works, some of it doesn't. But nobody's getting hurt.' Simon Munnery there, reviewing his own show.
To pick up where he's left off, And Nothing But is better than just scattergun, but it does fall short of when he has a properly honed hour of stand-up.
The show is partly a travelogue, running through some of the places he's been while previewing this show across the country – Cornwall, Enniskillen, Castle Cary, plus a bonus visit to the west of Canada and his former home patch of Tottenham. He uses these stop-off points to tell short stories, such as being in a taxi with feminist author Susie Orbach, or his local homeless man whose scams Munnery is powerless to resist.
As ever with Munnery, he's peppered it with some delightful one-liners and punky micro songs, and a home-made contraption to demonstrate what the 'New Can-Can' is. As ever, he can't keep his absurd streak down even when he's doing 'straight' stand-up. He's constantly playing with language, taking words apart and building them back up again, lingering on the internal rhyme within 'Bono', and the contradictory nature of the sea plane. In Castle Cary he ponders the absurdity of houses, and though this doesn't especially go anywhere comedically, he's at least interesting to listen to on such pontifications.
His language pedantry is part of what appears to be a nascent grumpy streak, railing against the word 'like' being used as punctuation (then accidentally doing it himself), and the phrase 'new and improved'. He also makes critical forays into the subject of feminism, calling out Orbach for hypocrisy, and the No More Page 3 T-shirt campaign for the same charge.
It's loose, but it's fun and it's unpredictable, and it certainly left The Stand's attended throng happy.
Review date: 14 Aug 2015
Reviewed by: Paul Fleckney
Reviewed at: Stand 1
Recent Reviews
What do you think?