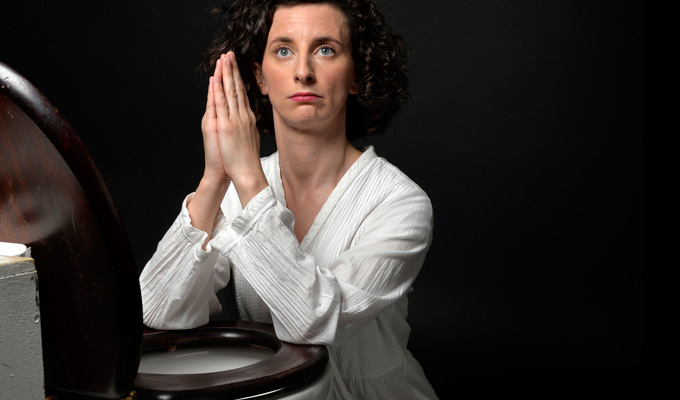 Felicity Ward: What If There Is No Toilet?
Felicity Ward's delivery fizzes and flashes and bangs like an untethered Catherine Wheel, showering white-hot sparks everywhere. How much inner confidence must she have to put so much conspicuous energy into her act?
Not much, as it happens, as this is a show about how she's racked with anxieties, making her clinically depressed. She's also got irritable bowel syndrome – the source of the show's title – which is both cause and symptom, as she's obsessive and compulsive about toilet habits for crippling fear of being caught short.
The pacy hour takes in the persistent voice of insecurities (whom Ward's named Beryl), the stresses and strains her mental lows can take on a partner and her reluctant agreement to seek help – not to mention consequent disappointment that the treatment can only be about managing her situation, not curing it.
Destigmatising mental health issues scores high on worthy causes, but the prime purpose of Ward's show is to get the laughs – even if a couple of times she has to reassure the audience it's all right to break into one. By deliberately making herself out to be such a fool, she not only gives permission for us to be amused, she forcefully insists on it.
The stand-up sections exposing her insecurities or other bizarre behaviour are brought to life by Ward's manic physicality, transforming with exaggerated conviction into the likes of someone wired on caffeine or flailing around while being restrained, all to hilarious effect. The Australian powerhouse's impersonation of a child trying to whisper – part of a useful subplot about whether she's ready for motherhood at 34 –  is especially priceless.
Ward's nervous energy ramps up over the hour, and becomes infectious, while the ups and downs of the story are compelling. And as the stakes rise, the jokes become more daring, and therefore funnier. The gap between the increasing seriousness of the situation and the increasing stupidity on stage is very fertile ground.
Ward stays firmly on the side of the upbeat; so daft and enthusiastic that in the one instance she asks for audience participation it would be churlish in the extreme not to take part and join her in looking foolish.
And for a conclusion, she pays off the hour with an emotional sucker punch that provides the perfect full stop to a blast of a show. Mental illness isn't supposed to be this much fun.
Review date: 10 Aug 2015
Reviewed by: Steve Bennett
Reviewed at: Pleasance Courtyard
What do you think?