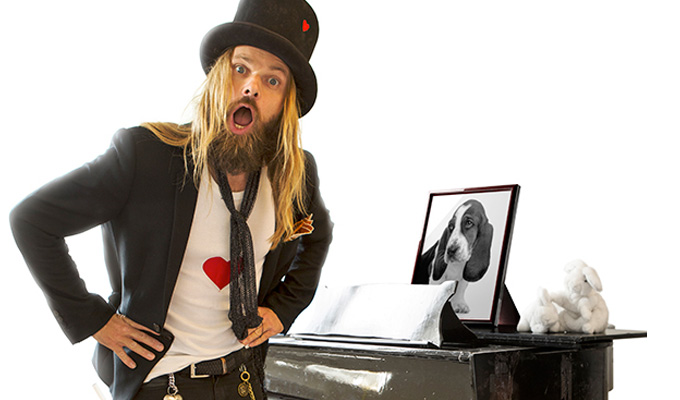 Carl-Einar Häckner: Shards
Shabby Scandi-clown Carl-Einar Häckner makes a rare return to the UK with Shards. But don't be fooled by the show's new title, for much of this is repeat content.
His act is an affectionate, absurdist mockery of the cheesy magic shows you don't see much beyond low-end cruise ships anymore. And if you're thinking Tommy Cooper you'd be bang on the money, as at times this is so close it could be a Swedish tribute act.
So expect cheap prop gags, pained wordplay, conjuring displays where he clumsily gives away the conceal and an attitude of fast-dwindling optimism in his half-arsed showmanship. Each daft dad trick is followed by him intoning in hushed awe the single word: 'Magic' and flittering his hands like a dove – the silly, ironic gag being he's too coy, and the spectacle too cheap, for anything really impressive.
It is, however, something of a one-joke show, despite his attempts to spice it up with surreal interludes. What starts full of playful promise – thanks to an elaborate 'knock-knock' prank in which we all conspire – eventually feels flatter than it ought.
His strongest point is, as ever, the misunderstood Teach Yourself Magic sketch in which he's asked to fold a bandana. It's hilarious but old, both for Häckner and for the world of magic in general. David Copperfield did it in his 1986 TV special, for instance.
He also has an eye-candy sidekick; in this case an adorably droopy-eyed, droopy-eared basset. But this canine sidekick is noticeably stuffed, which is probably a good job given the cruelties heaped upon him. But again Hackner has been performing the Houndini escapologist skit for years.
This is perhaps the way for shows based on magic, but Häckner seems to be losing his verve for it. What should be anarchic lunacy, and which still shows flashes of that spirit, is getting to feel pat, and that's a fatal blow.
If you've seen Häckner before there's nothing much new here, save are a couple of weird, downbeat musical interludes which seem more like filler – even in a show that barely lasts 50 minutes – than essential. And if you haven't… well, he's been on better form, even though most of tonight's Soho Theatre audience appeared entertained.
Review date: 17 Jun 2015
Reviewed by: Steve Bennett
Reviewed at: Soho Theatre
Recent Reviews
What do you think?