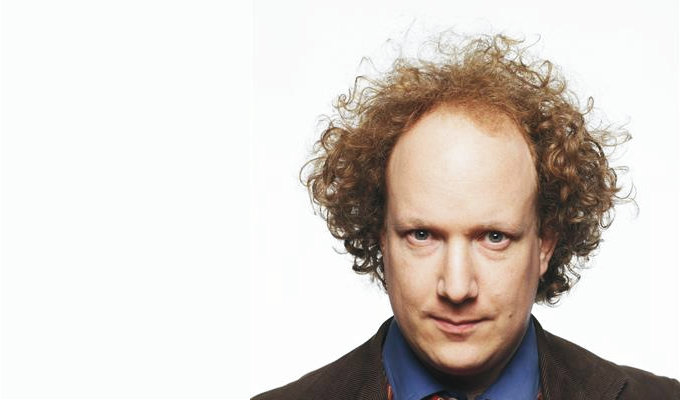 Andy Zaltzman: Satirist For Hire
Note: This review is from 2014
As topical comedy's king of the convoluted, Andy Zaltzman loves a challenge. He delivers his contrived metaphors and laboured puns with the self-satisfaction of a Countdown champion who's just unpicked a particularly tricky conundrum – and although the skill may be a very precise one, it's intellectually impressive.
For this tour, he's playing on the 'difficult' setting, asking audience members to suggest in advance the sort of topics they want satirised. While some topics will inevitably recur, a lot in tonight's show is bespoke as he's asked, for example, to mock the autumn equinox. And in one stand-out section, he's asked to comment on Carly Rae Jepsen – which prompts him to deploy some home-made audio chicanery to prove that she's a far deeper artist than Jimi Hendrix. But that iconoclasm's nothing compared to him muddying the reputation of the sainted David Attenborough.
The Satirist For Hire format certainly provides a different subject from the usual headlines, and provides Zaltzman a relief from trying to 'take a sideways look at…' depressing issues such as the butchers of Islamic State. Still he covers some of the lead news stories in his own time: after a perfectly overblown and pun-packed wrestling-style intro, he kicks off with observations about Ed Miliband's conference speech delivered that very afternoon. You can't fault the topicality, even if the ideas are still half-formed.
His labyrinthine analogies score best… it's a uniquely-wired brain that looks at Greece's economic woes then liken the nations to a man who's trapped his testicle in a George Foreman grill. Wilfully obtuse wordplays are another speciality, often accompanied with a commentary on just how smart he's been, or the occasional reprimand after jokes that 'deserve slightly more than you're giving credit for…'
Despite his obvious flair for such intellectual gymnastics, the hour – or closer to 75 minutes tonight – remains hit-and-miss. That much of the material is for one night only, without the chance of being hones, is both a blessing and a curse.
Zaltzman admits he's still grappling the format, which also incorporates a Honker Of Truth, A Spike Of Destiny and a Satirax 3000X – a pineapple-cum-radio only twice called into play to cover a bit of admin with prerecorded gags. But it would be to miss the point to call this paraphernalia contrived – as that's his M.O.
For this brainbox comic is no polemist – indeed several times he refers to himself as a 'neutral', perhaps subliminally lobbying for more BBC work. Instead of seeking to convey his opinions, he does a sort of Scrapheap Challenge on the issues in hand, seeing within the scattered detritus of the news the components of a comedic charabanc, which may or may not function as hoped when finally put together. But even when it fails, he's good-naturedly self-deprecating about it, and may, if you're lucky, dust down an elegantly-constructed pun to cover the deficit.
Review date: 24 Sep 2014
Reviewed by: Steve Bennett
Reviewed at: Soho Theatre
Recent Reviews
What do you think?