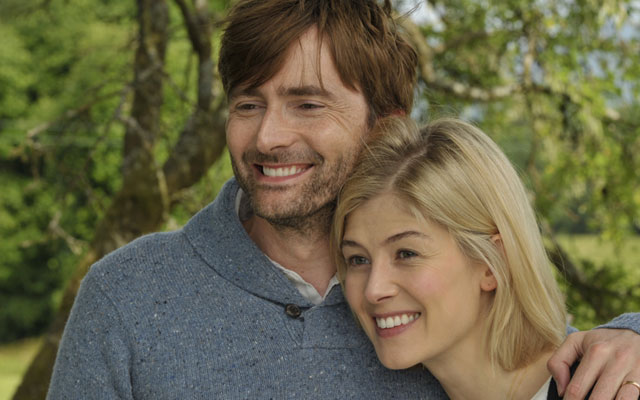 What We Did On Our Holiday
Note: This review is from 2014
In production notes for What We Did On Our Holiday, producer Dan Winch stresses that writer-directors Andy Hamilton and Guy Jenkin haven't simply transferred the style and characters of their hit sitcom to the cinema and made Outnumbered: The Movie.
But with a film that focuses on a trio of child actors, improvising their lines and behaviour around Hamilton and Jenkin's script, such thoughts are inevitable. Not least because Harriet Turnbull as five-year-old Jess, devoted to her pet stones and breezeblocks, is so reminiscent of Ramona Marquez and her inexplicable behaviour as Karen.
Likewise Bobby Smallridge, who recalls Daniel Roche's boisterousness as Ben, charging about with a sword as Viking-obssessed Mickey. Only Emilia Jones, as the perpetually worrying 11-year-old Lottie, differs significantly from her precursor, Tyger Drew-Honey's Jake.
A whole film of 'children blurt the funniest things to embarrass their parents' isn't the most promising premise. Especially as the bigger screen and naturalistic approach makes the younger kids initially seem irritatingly attention-seeking.
And yet steadily, this little gem of a story endears itself. Beautiful Scottish Highlands scenery and an A-list British cast notwithstanding, this is a BBC production with a straightforward, linear narrative that never really escapes its television origins. Yet Hamilton and Jenkin successfully elicit pathos and no small number of laughs from re-configuring their approach for the more ambitious narrative arc.
For starters, they've intensified the McLeod family dysfunction beyond that of their sitcom counterparts The Brockmans. Abi (Rosamund Pike) and Doug (David Tennant) have split following his affair with a co-worker but are maintaining a show of togetherness for the 75th birthday of Doug's father, Gordy (Billy Connolly), beset by terminal cancer and a weak heart as a result of his medication.
Driving from London to the Highlands, for the big, ostentatious celebration organised by Doug's social climbing brother Gavin (Ben Miller), who lives with his highly-strung wife Margaret (Amelia Bullmore), introverted teenage son Kenneth (Lewis Davie) and Gordy in an impressively stately house, Abi and Doug argue constantly, much to the dismay of their children. Lottie in particular frets about the number of lies she needs to remember in order to maintain the show of a united front.
The kids' lawlessness in turn exasperates Gavin when they finally arrive. So unsurprisingly, they're delighted to see Gordy, played with all warm, grandfatherly twinkle you'd expect from Connolly. An ex-footballer for Partick Thistle and Scotland, he's obviously lived a life, suggesting tales of far-flung adventures to Lottie, indulging Mickey and Jess' innocent nonsense and trying not to hear mention of his son's marital difficulties.
Acknowledging his impending death while sustaining a defiant, cheerful exterior, he despairs of Doug and Gavin's bickering and is bored by the party preparations, jumping at the chance to take the kids away with him to the beach.
Getting up to mischief, the bond Gordy enjoys with them on the idyllic sand is contrasted with the bad blood between the adults preparing for the party. And when left to their own devices, the kids dutifully follow his instructions to the letter, free of the social constraints and second-guessing that might apply to grown-ups.
The film now entertainingly shifts gear into pouring down the consequences for the family and taking a satirical swipe at the media, cranking up the farce while introducing a real sense of jeopardy. Lest it be forgotten, Hamilton and Jenkin also created Drop The Dead Donkey and there are some sly lines and set-pieces that reveals they haven't lost their touch for sending up the news cycle.
Connolly is perfectly cast as the idealised, loving and roguish grandfather. But then all the adults are essentially playing to type. Only Miller comes close to breaking out of his usual screen persona, but even he, ultimately, never really gets beyond the same pompous and agitated impotency he demonstrated in Death In Paradise.
There's solid support from the likes of Celia Imrie and Annette Crosbie. But the film truly belongs to the kids, who are by some way the deepest characters and hold a monopoly on the best lines. Jones capably conveys the conflicted emotions of an eldest child struggling to hold a family together and take responsibility beyond her years, while Smallridge has natural timing and doubtless a long future in comedy.
If you like Outnumbered, you'll love this, as there's more than enough surprises to justify Hamilton and Jenkin taking their tried and tested approach with child actors to the big screen.
Review date: 23 Sep 2014
Reviewed by: Steve Bennett
Recent Reviews
What do you think?