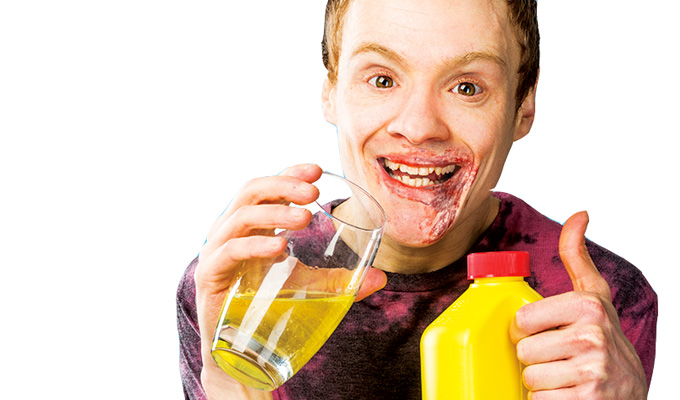 Andrew Lawrence: Reasons To Kill Yourself
In his ninth, and possibly final, solo show, Andrew Lawrence bares his soul beyond the weary, sneering, misanthropic rants of released frustration that have become his trademark.
For last year he was dumped by both his girlfriend and his agent, both of whom he'd been with for the best part of a decade. The romantic rejection he seems to have got over, thanks to a much younger partner, but the professional one seems to have confirmed his fears that, despite hard work and audience acclaim, his career is on a downward trajectory.
Three years ago, he was on Live At The Apollo, and that seems to be the peak of his professional parabola. Now he exists largely on £60-a-night club gigs, while his Edinburgh venue has half the capacity of last year's. Yet he sees contemporaries he considers less talented leapfrog him into the big leagues. His idealised thoughts that comedy was a meritocracy have been shattered by an industry he considers 'corrupt and toxic'. Though it's probably down to the fact that TV favours charm over talent, and 'charming' is not the first word that springs to mind when you think of the wretched Lawrence.
The closing section of this show is a passionately embittered diatribe about the injustices he sees in a business that doesn't aways reward creative endeavour. It's heartbreakingly sad, practically a suicide letter for his career, and doesn't even seek to alleviate the depressive mood of disillusionment with a laugh.
Earlier other aspects of the comedy scene – notably the current trend towards feminism – get a skewering with laughs attached. But this is a morose ending for a show that otherwise delivered Lawrence's usual grim voice of uncompromisingly brutal common sense, made guiltily enjoyable through his vitriolic wit.
His intolerance burrows into inane office chit-chat, parents who ascribe their children's bad behaviour to some sort of fictitious 'condition' or the insidious, bullying tactics of payday loan companies that prey on the vulnerable. He doesn't like thin people, or fat people, or muscular people. Let's face it, he doesn't like people.
Much of his act is conversational, even occasionally allowing himself to get distracted into ad-libbing as 'padding'. He plays around with his image, after one of his hard-edged routines cause a gasp, he tells the audience unquestionably: 'I make the decisions as to what's acceptable.'
Yet the calling cards remain his dense, rhythmic, poetic diatribes of despair, vigorously and relentlessly pumping out the violent, venomous adjectives in a crescendo of righteous scorn. He's got a couple of especially powerful examples in this show.
Despite being terminally jaded with the industry part of comedy, Lawrence confesses he doesn't want to completely quit the job which has become an addiction, and hints that he is trying to progress his comic abilities. We might not have seen the last of him yet.
Review date: 25 Aug 2014
Reviewed by: Steve Bennett
Reviewed at: Assembly Rooms Fringe
Recent Reviews
What do you think?