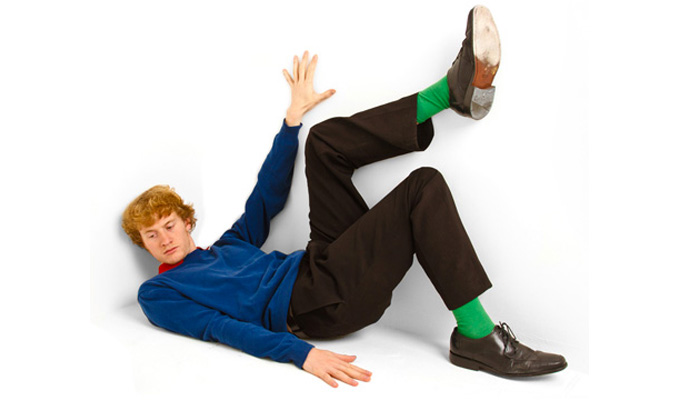 James Acaster: Recognise
Note: This review is from 2014
Resplendent in green corduroy, like a rock 'n' roll geography teacher, James Acaster walks on to the stage, throws some shapes - borrowed from Jarvis Cocker it seems - then drops to his knees.
He remains on his knees, failing to mention anything about it, for the opening few minutes. Does he consider himself too tall? Is he giving his calf muscles a rest after a long walk around Edinburgh? By the time he finally tells us what it's all about, we've pretty much accepted it as normal. While still on his knees, he banters with the back rows rather than taking the easy option of accosting the front.
If you weren't already aware of Acaster's work, this a pretty good introduction: things are going to be turned on their head and we'd best steel ourselves for a fair amount of kook.
It's no wonder that Acaster has been garnering acclaim, there's some seriously nifty outside-of-the-box comedy thinking going on here. He's been nominated for the main Foster's comedy award for the last two years and this year the mugshot on his posters is slowly disappearing under the pasting of four-star reviews.
Last year Acaster's somewhat nonsensical over-riding theme was his mission to clear Yoko Ono's name as the woman who broke up the Beatles. This year he pushes on with an extended premise that he is an undercover cop masquerading as a comedian trying to break a gang who are selling drugs to comedians. It's a commitment that gets even more delightfully silly the more he pushes it, constantly returning to the undercover cop masquerade with poker face.
Elsewhere his material is concerned with the minutiae of life. He's a fussy pedant, the only rule he disobeys is the 'three second rule' for dropped food. Both Acaster's choice of topics and use of language takes the ordinary and makes it seem special, at one point describing blending in 'like a roast parsnip amongst the potatoes.' Elsewhere there's a routine about the most ordinary of kitchen utensils, the oven glove, and how idiotic the ones that are attached to each other by a 'dirty hammock' are.
There's a surprisingly mathematical, logical brain behind the apparent whimsical absurdities, pondering on the square (why should the triangle get all the attention?) within some geometrical drawings. A preciseness beneath the quirks.
His delivery is gloriously affected too, punchlines are often delivered with a wave of a fey arm, he takes the Pret a Manger 'manger' and uses it continually like a public schoolboy showing off his newly learned language skills.
As for the Foster's, maybe it'll be third time lucky this time around.
Review date: 16 Aug 2014
Reviewed by: Marissa Burgess
What do you think?