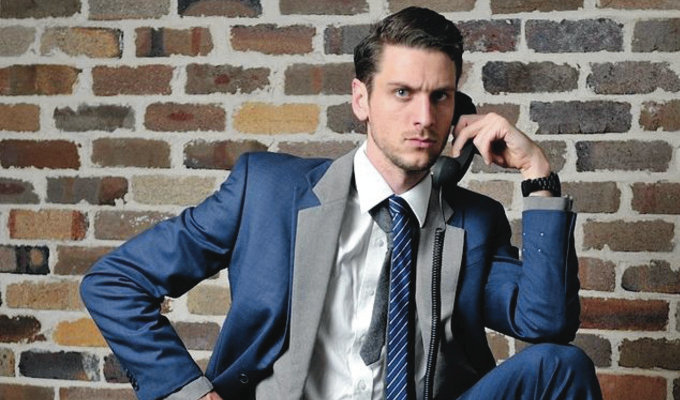 Steen Raskopoulos: I'm Wearing Two Suits Because I Mean Business
Note: This review is from 2014
'I saw him when he was playing a tiny room above a pub,' is the boast every savvy star-spotter hopes to make after their festival favourite makes it big.
Steen Raskopoulos is surely destined for greater things, and in his case you'll be able to say you more than merely saw him. For he dives invasively into the audience on almost every sketch, expecting – nay, demanding – sometimes intense interaction. To mix several metaphors, even the most bashful wallflower will be coaxed out of their shell and put on the spot. But whatever he demands of his victims, he delivers ten times more – and the intention is playful, never cruel.
Such set pieces make his work stand out, but it is not the crux of his talent. That lies in perfectly realised character comedy that would give him a strong claim to be the next Chris Lilley.
Much of the action in I'm Wearing Two Suits Because I Mean Business is loosely framed around the hard-nosed corporate exploits of one Tony Zegamo, with his challenging interview techniques and relentless work ethic. It's barely a constraining theme, though – along the way we also meet a contrary rap MC, the cast of a Latino soap opera, and a dashing runner who has his Olympic dreams dashed. And from last year we reacquaint ourselves with a couple of characters destined to be favourites: the inspired Greek Orthodox priest-stroke-film reviewer, and the brave little soldier of a schoolboy, doing his best to keep his pecker up despite being abandoned by his dad. If you don't emit an 'aah' at such perfectly judged pathos, you have a heart of concrete.
Each creation, though exaggeratedly quirky, is made three-dimensional and credible by Raskopoulos's deft acting and quick-witted ability to ad-lib without breaking character. His sophomore show consolidates the well-earned buzz that surrounded his newcomer-nominated debut and conclusively proves that he has plenty more ideas in the creative well, and the skills to execute them flawlessly.
Review date: 8 Apr 2014
Reviewed by: Steve Bennett