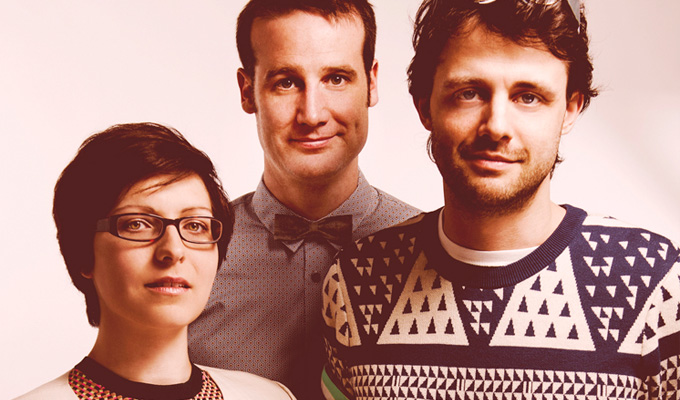 Festival Of The Spoken Nerd: Full Frontal Nerdity
Note: This review is from 2014
Take the good aspects of Top Gear – the passion, the camaraderie and the entertaining three-way joshing – and splice it into the DNA of the Royal Institution's Christmas Lectures, and you have Festival Of The Spoken Nerd.
Boffins Helen Arney, Steve Mould and Matt Parker are on a Reithian mission to inform, educate and entertain, and for their target constituency they do just that with a breezy mix of show-and-tell experiments, self-deprecating geek gags and the odd comic song.
Nerd comedy's pretty much in the mainstream now, of course, thanks to QI and Dara O'Briain on the telly and Robin Ince and Josie Long and the rest on the stage. While the geeks have inherited the mirth, FOTSN, as we'll call them, sit comfortably – perhaps a little too comfortably – in that landscape. Not a miracle breakthrough in comedy, but strong supporting work, with curious facts you can take away, amusingly conveyed with a puppydog enthusiasm.
Physicist Mould has all the best set pieces – tornados of fire and a very neat trick with a chain of beads. There are more spectacular whizz-bang experiments he could probably have done, but his selection contains some genuine intellectual wonder, not just pyrotechnics, even if he plays up the allegedly reckless nature of the demonstrations. He also explains that the colour magenta doesn't exist, so suddenly that printer ink doesn't look so expensive…
For mathematician Parker, all the world's a spreadsheet and all the men and women merely data. The running joke is that equations and integral calculus isn't exactly sexy but the practical upshots are, as the trio get to have more fun with toroidal vortices than you would have thought possible. Not least because you probably thought none was possible.
Arney is the only one of the trio with a grounding on the comedy circuit – though with a physics degrees she still fits the bill. She describes herself as a geek songstress with 'the voice of an angle'; and in this show has a couple of whimsical, sweetly-sung ditties on cryogenic freezing and synesthesia. And her voice is literally devastating – at least if you're a wine glass – as she puts an operatic set-piece to the test.
Throughout the evening, the three of them exchange good-natured swipes at each others' passions, and make them seem fresh – even if the same jibes do come out night after night. Such banter strikes a confident note, tacitly acknowledging their quest for knowledge is a lot cooler than the schoolyard jocks would have credited.
Though it's aimed at the scientific set who'll laugh with the superiority of getting throwaway asides like 'set your calculator to radians',  Full Frontal Nerdity is really for anyone with an open mind who's happy to learn as they laugh.
Review date: 27 Jan 2014
Reviewed by: Steve Bennett
Recent Reviews
What do you think?