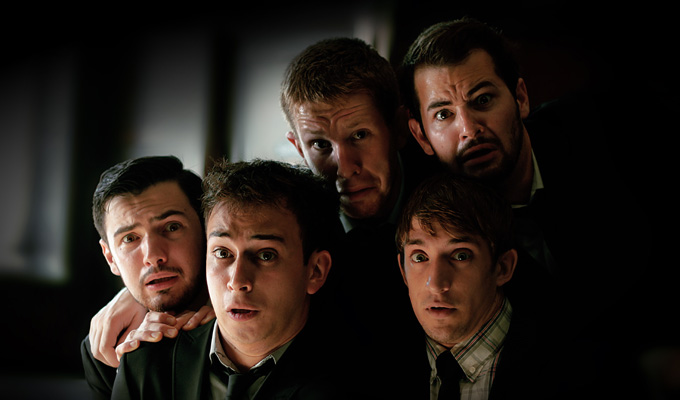 Casual Violence Presents: House Of Nostril
Note: This review is from 2014
Casual Violence have created an effective gothic landscape for their narrative sketch show, House Of Nostril, so even if the surreal, dark comedy is often heavy-handed, they skilfully draw the audience into their world.
The group, another set of five white seemingly middle-class young men, deliver their over-the-top caricatures with histrionics – although every good psychological horror creator knows that the truly unsettling comes from subtle threats in the mundane, not the loud scary monsters. Any intensity here comes from the over-the-top performances of blatant weirdness, rather than the appalling credibility of the subtly twisted, as found in The League Of Gentlemen, who are a clear influence.
This offering, their third, is set in a sinister Victorian pile where the Nostril family patriarch Roger (confusingly referred to as 'Master' Nostril) has returned from two decades of war to be reluctantly reunited with his naive son Charlie – and use his voodoo arts to combat a new enemy: the villainous Amnesty International and its regenerating chief executive. Meanwhile, there are poison-testers in the basement, Cockney chimney-sweeps having a crisis of confidence in the roof, and an hallucinating brother grappling with a hallucinatory goblin in some distant wing.
The weird occupants may be original, but the eccentric, melodramatic thriller is pretty familiar comic territory, from Spymonkey to Radio 4's Bleak Expectations – though it doesn't have the slick physical humour of the first, nor the dexterous writing of the second.
Each scene is dragged out beyond the original idea, to mixed effect. Sometimes it's just irritating, sometimes they find new veins of funny by exploring every angle. And for a group based on big, bold performances and zany slapstick, it's usually the more subtle touches that are most effective, such as the projected slides introducing each scene that becomes increasingly passive-aggessive as the story unfolds. The team also allow themselves the odd moment of corpsing or apparently improvised aside, which adds an affable, spontaneous note without derailing proceedings.
Attention to detail ranges from the stylish animation that opens the show, to the live musical accompaniment from Ben Champion on keyboard and accordion – although again less could mean more with some of the incidental tracks labouring the mood.
Over the last three Edinburgh Fringes, the team have been showered with reviewers' stars – as well as two nominations for Malcolm Hardee award for comic originality – but House Of Nostril, developed by the Lowry Theatre in Salford and at Soho Theatre for the rest of this week, seems more a display of competence with the occasional impressive flourish than the bold new future of sketch comedy.
Review date: 16 Jan 2014
Reviewed by:
Reviewed at: Soho Theatre
What do you think?