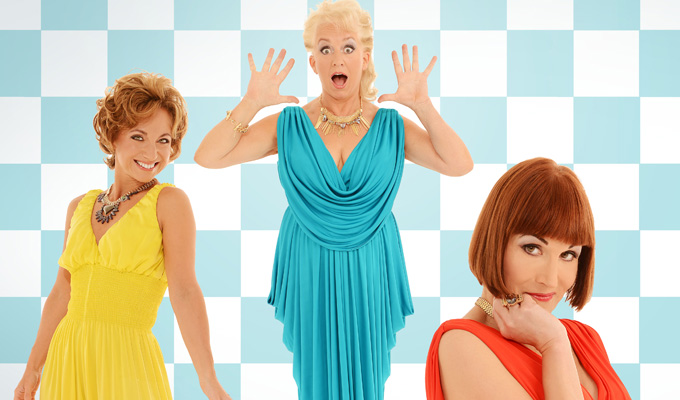 Fascinating Aida: Charm Offensive
Note: This review is from 2013
Let's start with the brilliance. Prisoner Of Gender, it's explained, has been ten years in the making. It is a heartfelt, deeply personal, story of how Adele Anderson felt an outsider inside the male body nature had dealt her, until she found a sympathetic surgeon. It's an ambitious subject, running a tightrope between being too 'worthy' and mining easy laughs… but they comprehensibly nail it with this funny, powerful, sincere and musically impressive number that packs a heavyweight punch on both the emotions and the funnybone.
Yet they follow this with a song about budget airlines. Again, brilliantly executed – everything this talented trio do is skilfully staged – but comically a very hackneyed area indeed. Still it's one of their greatest hits, with 4.3million YouTube views to date. But in the 30 years since Dillie Keane set up the group, she's come to know exactly what their audience want. The group absolutely own the bourgeois; playing up their upper-middle-class suburban credentials to the extent that they make Miranda look like a navvy. Few comedy audiences will contain quite so many myWaitrose cardholders.
Much of the humour derives from these well-to-do, impeccably dressed women being allegedly risqué, with songs about dogging, condoms or insinuating that Tom Cruise is gay. There's not much here that would surprise, or even interest, a regular comedy club-goer, and the 'current' references tend towards the predictable and gratuitous.
When they mention Miley Cyrus or Facebook, it's like a trendy vicar doing so. And while they do mock their own out-of-touchness, with a rap about being 'down with the kids', even this seems full of lazy references to 'da youf'. But for or the well-heeled set at the London's Southbank Centre, more usually home to classical music, this material hits the spot.
There can be no disputing that this is classy entertainment presented by mistresses of their craft. With a variety of styles from West End showstopper to poignant ballad, and sometimes a cappella, everything beautifully sung, and third member Liza Pulman is especially mesmerising. And more than once they abandon the comedy completely for a sincere number, and it's generally for the better as they leave their safe topics behind.
The trio briefly show a political agenda with a pointed dissection of the massive flaws in the commercially-sponsored academies replacing schools, which isn't that funny but is important. It's is followed by a Gilbert-and-Sullivan parody The Teacher's Lot Is Not A Happy One, another victory of style over content - but what style! Meanwhile, their traditional Bulgarian folk-song cycle gives them the chance to indulge in some quickies – and fair play to them for including very topical news in the lyrics. But again, a couple of notable exceptions aside, the gags aren't particularly ambitious.
Does it matter, though? While Aida aren't so fascinating, they are undeniably entertaining and hugely skilled – and their fans go away thoroughly delighted with a polished, jolly night out.
Review date: 24 Dec 2013
Reviewed by: Steve Bennett
Reviewed at: Queen Elizabeth Hall
What a mixed bag in this not-so-festive selection pack served up by vintage trio Fascinating Aida. Charm Offensive contains one of the most astonishing compositions ever served up in the name of musical comedy, but it's set amid plenty of rather old-fashioned tracks in which middle-class women sing jaunty, but slightly twee, ditties about vaguely topical issues, with a generous dash of ribald language. So naughty!
Recent Reviews
What do you think?