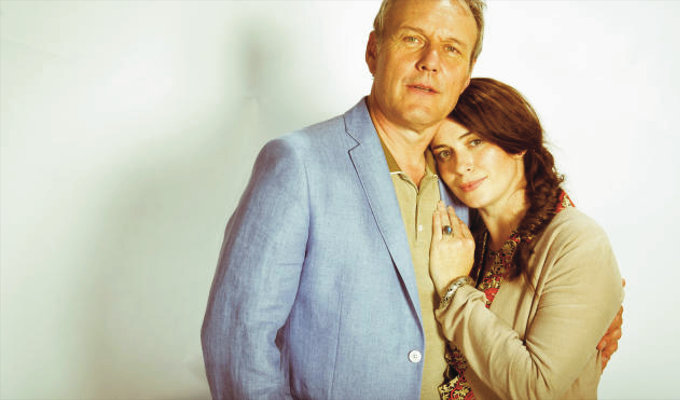 TV review: You Me And Them
Note: This review is from 2013
It is clearly a big gamble for UK Gold to commission its first sitcom. But in You, Me and Them, it has played so tediously safe, the channel known for its reruns might as well have slapped on an 20-year-old episode of May To December instead.
Like that ancient sitcom, the plot here revolves around a couple in love despite the disapproval of friends and family because of their big age gap. But the tone of the show makes My Family look edgy. We are in the realm of families as seen in adverts, where characters hang out in spotless kitchens wryly rolling their eyes at the antics of their naughty kids/useless husbands.
There are plenty of sitcoms built on similarly flimsy situations, of course, especially in the States. but those tend to pack in the gags. Here they are very thin on the ground – in the necessarily exposition-heavy opening episode, at least – and are not at all strong. When one chubby character complains about all the names he was called as a youngster because of his weight, he adds after a beat (join in, everyone): 'Mother could be so cruel.'
Anthony Head plays Ed, the wealthy owner of a string of garages, Eve Myles his younger girlfriend; the normal couple in the middle of the oddballs. In a painful contrivance, Lindsay Duncan plays Ed's ex-wife who lives next door. She's a clingy stalkery type, you see. While Lauren's mum, played through constantly pursed lips by Susie Blake, is another one-dimensional female archetype: the interfering mother-in-law, though elevated by her performance, it's still thin pickings. The random totty comes in the form of Shobna Gulati, playing a hypnotherapist. And you know that hypnotism in comedy will end up with one of the characters doing something humiliating in a 'trance'.
But the shallowness of characters you couldn't care less about and and underpowered script means most viewers probably found themselves with similarly heavy eyelids, out of pure boredom.
Review date: 23 Oct 2013
Reviewed by: Steve Bennett
What do you think?