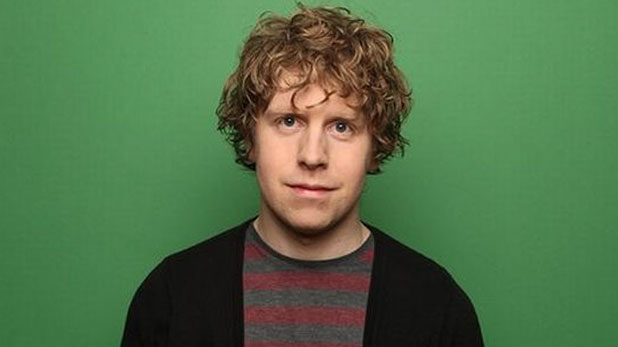 Josh Widdicombe: Incidentally...
Note: This review is from 2013
It must be exhausting being Josh Widdicombe, being exasperated to the point of incredulity at every little thing in his life. 'It's unbelievable!' he croaks dozens of times an hour, like a young, high-pitched Victor Meldrew.
But unlike Meldrew's skilful sitcom, there's no particular reason why Widdicombe is so vexed by the world. He just seems to have gone around his house, picking things up with the intent of picking fault, which he can then describe back with sarcastic exaggeration. Don't believe me? His gimmick here is a table allegedly containing the items that were on his coffee table one day, props that he goes through one by one as objects of the broadest of observational comedy.
His set list covers the serving suggestions on Super Noodles, home-made jam, bananas, water-filters and the slogans on Love Heart sweets. Every home worker has an idle compulsion to gaze into kitchen cabinets – but for Widdicombe that seems to be the extent of his research.
To be fair, he never promised us anything but the everyday. 'I am not a big issues comedian,' he says, stating the bleeding obvious. There's nothing wrong with doing observational comedy of the common experience, but this hour seems soulless, even cynical; opinions formed because he's got a tour to do to capitalise on the exposure of being on Channel 4's The Last Laugh, rather than anything anyone would really, genuinely give a damn about. Taking issue with David Bowie's introduction to the DVD of The Snowman is pretty darn niche.
Not that obscure is necessarily bad. He has a nice line about dropping a CD, for example. that works because it has the ring of truth to it; a genuine reason for him to get wound up, compared to the artifice of so much of his material.
That said, Widdicombe did his job and entertained this substantial Brighton Comedy Festival crowd. He's a likeable guy, and does a decent job of audience banter to aid that. Plus he occasionally comes up with a neat line of description that hits the nail perfectly on the head. But for a comic who in the past has seemed like an interesting new voice in mainstream observational comedy, Incidentally... seems very lightweight.
Back in the day, someone like Widdicombe would have been a strong circuit act, with a great 20 minutes to his name, building up material till he was ready to make a leap. Now the clubs are generally not thriving, so he pressure's on to churn out an hour as often as possible, even without the voracious appetite of all his TV appearances.
The result proves as satisfying and nutritious as those Super Noodles he mentioned: not very. Lazily tying up the hour with gratuitous callbacks is no substitute for real depth or substance.
Review date: 18 Oct 2013
Reviewed by: Steve Bennett
Reviewed at: Brighton Dome
Recent Reviews
What do you think?