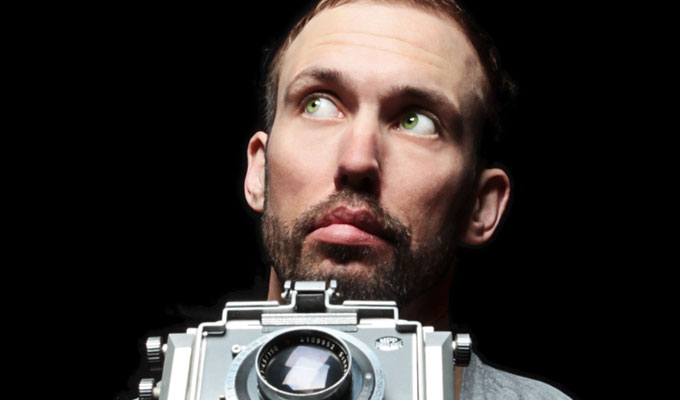 Benny Boot: As Seen On TV
Note: This review is from 2013
'I don't know why that joke's funny,' says Benny Boot, in a typically self-analytical aside. 'It doesn't even make sense...'
Yet finding meaning in his dry, offbeat nonsense is a fool's errand, for Boot playfully reshapes reality around his own eccentric imagination. The result is not quite surreal, but it's definitely odd.
Mitch Hedberg is an obvious influence – right down to the strangulated vowels – although laid-back Boot is more relaxed even than that slacker; revelling in describing his quirky set-ups rather than distilling down his ideas to a perfect one-liner.
At Edinburgh this year, the Australian surrounded his gags with the concept that he was an inept comedian who was being filmed for a DVD – and although this Brighton Comedy Festival performance is billed as the same show, he's dropped the unwieldy conceit to deliver a pared-down 'greatest hits' hour. His only concession to showmanship is a guitar, which he strums nonchalantly behind one extended routine, evoking comparisons with Another American absurdist, Demetri Martin.
His finest material certainly merits mention in the same breath; making a corkscrew seem gloriously silly or describing the pitfalls of dealing with a recently deceased corpse. Pranking is a recurring theme, too, from engineering turf wars between pizza companies to livening up his own funeral, all of which demonstrate an ingenious, original writing. Even stand-up clichés like supermarket's self-service checkouts or bullshit cosmetic adverts are given a fresh twist.
However, Boot never quite allows the laughs to build. Although the show is more structured than he lets on, with some neat long-range callbacks rewarding the attentive, it is presented so loosely that every crescendo is allowed to dissipate as his focus wanders. It's a charming casualness, but might also be doing his fine material something of a disservice as it wafts gently over you, rather than assaulting your funny bone.
Review date: 16 Oct 2013
Reviewed by: Steve Bennett
Reviewed at: Brighton Komedia
Recent Reviews
What do you think?