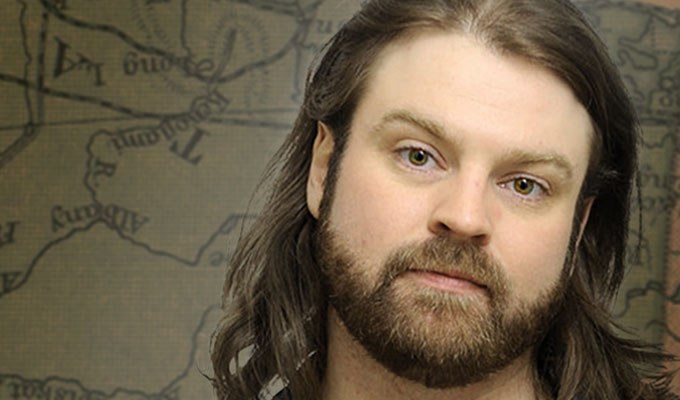 Glenn Wool: This Road Has Tolls
Note: This review is from 2013
Canadian Glenn Wool is one of the most consistently strong stand-ups to have made Britain his home – even if the choice of staying here is not entirely his, given an ill-fated attempt to forge a career in LA.
However, This Road Has Tolls, though dependably funny throughout thanks to Wool's usual mix of the significant and the silly, powerfully delivered, lacks the killer edge to make it a must-see.
I say he made Britain his home, but he is an airborne itinerant. The ultimate global road comic, he feels an affinity with Edward Snowden, as he too pretty much lives in airports. And it is one flight in particular that provides one of the strands loosely holding this hour of anecdotes together.
Forced to endure a turbulence-hit long-haul flight with an agonising slipped disc, Wool found himself sitting next to a Buddhist monk (or 'Booo-dist' in his accent), prompting him to think his painful discomfort might be karmic payback for previous transgressions. Not that he believes in karma, but a narrative device is a narrative device.
The other thread running through the show is a penchant for tortuous puns based on Asian place names (although one shaggy-dog Korean example is a doozy) underlining the fact that Wool's never entirely serious.
Frivolous, relaxed and rakish are the buzzwords, as he dances naughtily around hot topics such as Islam and Holocaust, reprimanding us for daring to think he might be offensive without hearing the gag in its full, playful context. Oversensitivity is Wool's bugbear, so he has a justifiable bee in his bonnet about the care home worker who claim his 95-year-old, Alzheimer's-suffering grandfather, who lived through the real horror of the Second World War, had 'abused' her, just for frustratedly snapping a mild insult.
As always, the delivery is forceful – high volume, passionate, big theatrical gestures, mixed with coy moments of silliness. And never underestimate the effectiveness of a camp German accent.
But for that, the show is slow to build. Initial material about the horsemeat scandal are relatively mild, but by the time he regales is us with his failed attempts to entertain a coach party of pensioners on a mystery tour in New Jersey, we find we have all boarded the GlennAir flight to Funnytown.
Review date: 17 Aug 2013
Reviewed by: Steve Bennett
Recent Reviews
What do you think?