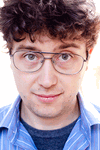 Alasdair Trembley-Birchall: Trying Hard
Note: This review is from 2013
Canadian-born, Aussie-bred Alasdair Tremblay-Birchall could fall into that double-edged category of comedians' comedian, gently mocking the conventions of the genre to the exclusive delight of the cognoscenti. But wrapped in the knowing deconstruction is delightfully quirky stand-up that offers treats for every audience.
His commitment to the cause of comedy can't be faulted as he takes to the stage in a preposterously elaborate – and no doubt stiflingly hot – multilayered costume, all for the sake of one daft joke, which only works because of the ridiculous lengths he's gone to. And even then, it barely does.
This is a rare sight gag for a comedian who's forte is verbal, and approach low-key. His sharp gags – almost inevitably prefaced by an unconvincing faux-casual 'oh, hey guys....' – are short but imaginative; silly but sardonic. He has an odd take on the world, delivered uncertainly, but it can still be revealing.
He's a little bit sciencey – after all, he was an engineer before jacking it in to follow his comedy dreams – which again adds to his geek appeal, without alienating others. And the delivery has a winning, off-kilter pace, never better demonstrated than when he shares a rundown of his peculiar reasons to be cheerful.
That said, he sometimes deliberately extends a gag, such as the intimate, detailed discussion about the circumference of his urethra, which made funny precisely because it involves too much information. Yet again he knows exactly where to stop while the joke is still funny.
There's no flow to the disjointed 'bits' and his endearingly low-status delivery is far from slick – whether that's by design or not remains a riddle – but in writing and timing, he knows what he's doing.
The show closes with another in-joke for comedy fans: a short set from 'Harrison' – his misogynistic stand-up alter-ego who would strut the stage like Andrew Dice Clay in his heyday, had Trembley-Birchall the confidence to pull it off. But it speaks volumes about the sort of comedian he isn't.
Review date: 10 Apr 2013
Reviewed by: Steve Bennett
Reviewed at: Melbourne International Comedy Festival
Recent Reviews
What do you think?