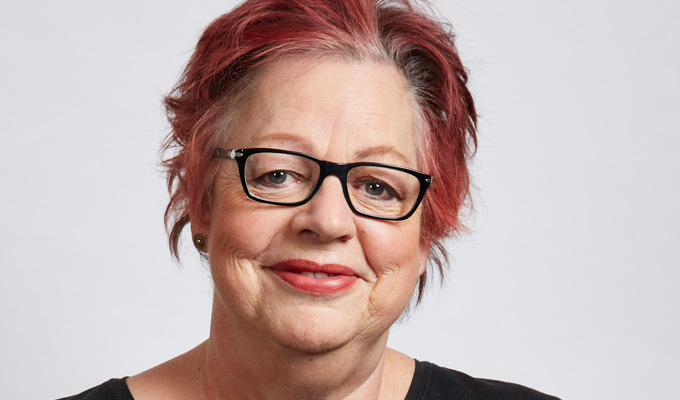 Jo Brand – Original Review
Note: This review is from 2007
She stands lazily at the microphone, exuding an overpowering aura of boredom. It feels as if she can barely be bothered to be here, just as she can't be bothered with housework or her appearance; preferring a oversized black T-shirt and shapeless leggings, aggressive blood-red lipstick her only concession to cosmetics.
Most of all, though, she can't be bothered with men. Her world, as everyone knows, is black and white: hate men, love cakes. For much of her act, she's almost a poor parody of her own image, churning out predictable lines on these now tired subjects.
But even when she mechanically knocks out this shtick, you can't deny her a skilful timing that wrings the laughs out of the most unexceptional gags.
Talking of which, she's got one of which she seems inordinately proud about losing weight by running three miles every morning and three miles every night, a version of which Bob Monkhouse used to tell – and it surely wasn't new then. Another routine revolves around the female condom, which was briefly a universal source of universal derision in the early Nineties. It hasn't dated well.
But for all that, Brand can still be surprisingly good. When she breaks away from her comedy by rote and into talking about her life as it is now, she shows the talent that got her famous in the first place, before she could rely on simply hitting the same bases time after time.
The more personal moans about the tedium of middle-aged drudgery – from bad sex to bad parenting – brings her set alive. After a few years of treading water, this shows a renewed lease of comedy life – if that's not too energetic a phrase for someone who prides herself on her laziness.
Such tales of middle-aged tedium suits her style, which was always old beyond her years. Age suits her, but only when it's not the jokes that are old.
Review date: 14 Mar 2007
Reviewed by: Steve Bennett
Jo Brand is the one female stand-up everybody knows, with such fame that she alone has defined the flawed stereotype of the woman comedian as a moody, man-hating slouch.
What do you think?