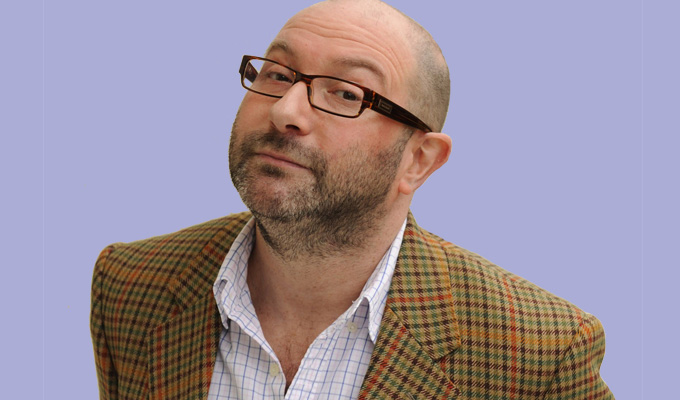 Chris Neill – Original Review
Note: This review is from 2006
Frankie Howerd
fathered a child, chances are he'd have turned out something like
Chris Neill
, a BBC radio producer and broadcaster turned raconteur stand-up.
That's not a kneejerk reference, immediately lumping Neill together with two other camp comedians – for camp he undoubtedly is – because the similarities don't end there. He's extravagantly supercilious, with the comedy coming from not only his brazen disdain for those he considers intellectually inferior – which is pretty much everyone – but also from the audacity of his own elevated self-opinion.
His view is that the world is full of ignorant oiks who grab so much ill-deserved attention, even though his charmed middle-class life must surely be inherently more fascinating than theirs. Thus he shares with us the minutiae of his existence, laced with aloof contempt for everyone else.
It's an appealing persona, as his comedic forebears have proven, with the joke being simultaneously on him and those he mocks. But the flipside is that he's crying out for an editor for much of his meanderings, which often go round the houses more times than a dodgy cabbie on the make before finally settling on their withering punchline. It can make his set frustrating to watch, as he asks his audience to indulge him rather too much until he gets to the point.
He ends strongly, mind, thanks to a dismissive commentary on a couple of things he's read, producing routines much more focussed than his earlier blethering.
The first segment comes courtesy of Jodie Marsh's gloriously unselfaware autobiography, which provides Neill with plenty of opportunities for ached eyebrows and bitchy asides. The second gem is a deadpan local newspaper report of a tragedy of such bizarre circumstances, caused by such slapstick clumsiness it could have been enacted by the Three Stooges. It's here Neill's intellectual snobbishness and acidic turn of phrase collide for maximum impact.
Review date: 6 Dec 2006
Reviewed by: Steve Bennett
Had Kenneth Williams and
Recent Reviews
What do you think?