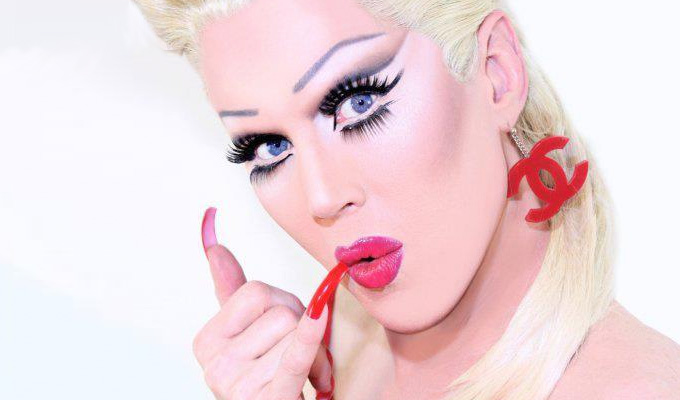 Kandi Kane Baxter – Original Review
Note: This review is from 2005
More drag-act high camp than fully former character, Charlie Hides's Kandi Kane Baxter is a broadly-drawn, over-the-top grotesque of a high-maintenance Californian trophy wife.
None-too-subtlely based on queen of the gold-diggers, Anna Nicole Smith, Kane is the, outrageous, flirtatious young wife on some ailing, geriatric millionaire. She has all the unrestrained bad taste of your average Footballers' Wife, and loves to flaunt it.
It's in the same rich traditions of exaggerated cross-dressing bitchiness as a panto dame, or a Lily Savage – and the histrionics can equally be a source of energy as one of irritation, depending on the audience. In fact, whether the act's appeal goes beyond the up-for-anything gay crowd it is so clearly aimed at is open to question.
Mostly Hides trades wit for overacted extravagance, offering a whirlwind of broad performance to distract you from the failings in the writing behind such a wide, easy stereotype. There's a strong bitchy streak – of course – and now and again a joke does emerge that's better than you expect, but they're notable because they're so sparse.
Hide's flamboyance makes it better than it ought to be, but Ms Kane Baxter is still much closer to  drag queen caricature than to fully-fleshed comic character.
Review date: 28 Oct 2005
Reviewed by: Steve Bennett
What do you think?