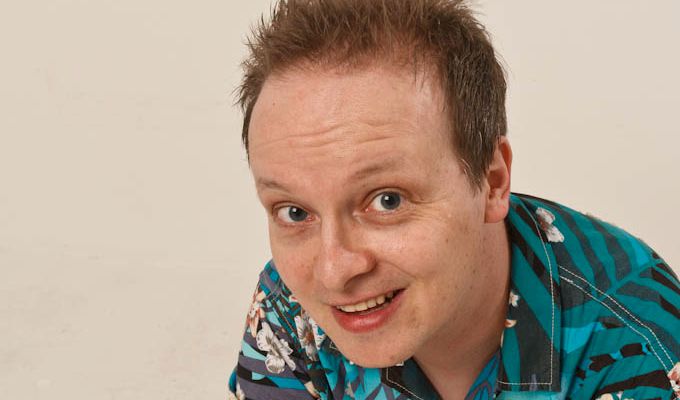 Stephen Grant – Original Review
Note: This review is from 2005
Grant's an unstoppable, ebullient motormouth – gabbling away 12 to the dozen as he distributes his easy mix of anecdotes, observations and gags.
It's a technique – if you can call it that, as it seems more like his natural self than any considered ploy – that proves very effective in working a room.
He's careful to include everyone in his friendly banter, the energy is undeniable and he's lightfooted enough to react to most situations, however unexpected. Regulars at Brighton's Komedia club know him as the house MC, and it's no surprise that he's most in demand as a compere and TV warm-up guy.
The routines themselves tend to be quite long – driven more by Grant's excitable enthusiasm than any particular punchlines – but usually building inexorably up towards a strong, knockout gag.
His topics are perhaps limited in scope; he's a hard-working comic and the experiences reflect that: the strains of late-night driving or the idiots he encounters in a game-show studio audience and so on. But then 'write what you know' has always been the comic's mantra, and if nothing else Grant seems to genuinely enjoy sharing his experiences with an audience.
It's that kind of hard-to-fake passion and cheeriness is what makes comedy-goers warm to him, and what is his greatest strength.
Review date: 1 Jul 2005
Reviewed by: Steve Bennett
Recent Reviews
What do you think?