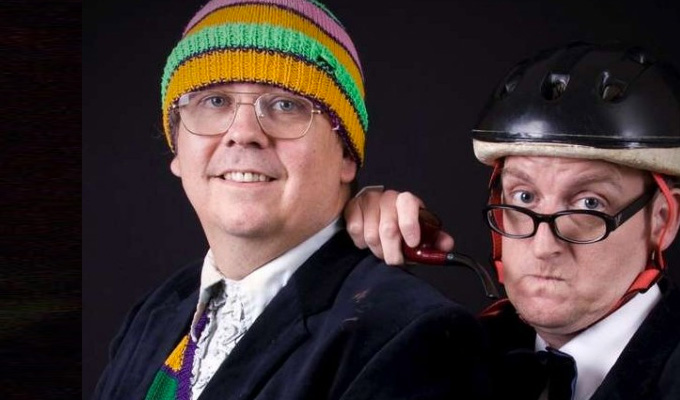 Raymond & Mr Timpkins Revue – Original Review
Note: This review is from 2005
Ever seen Catchphrase? Well this manically silly pair are the embodiment of that game show – with a few added E-numbers for extra hyperactivity.
Their entire act, more or less, involves them miming out snatches of lyrics from a fast-cut montage of songs – taking every line ridiculously literally. 'That's me in the corner,' whines REM's Michael Stipe, and sure enough, in the corner is a card with the word 'Me' on it.
It sounds, admittedly, stupefyingly juvenile and banal. Which is exactly what it is. Yet the vigour, pace and joy with which they belt though their idiotic jokes not only save the act, but make it. The undemanding stupidity allows you to let your guard down, so that when they do catch you out with a bit of unexpected wordplay, you love them for it.
As the soundscape lurches from the Blues Brother, to Chariots of Fire, to Oasis, to Listen With Mother, a few traps are laid to vary the routine – not least the use of mondegrens, or misheard lyrics – to catch the unwary.
Though they play up the simple-minded wackiness - dressed as if they'd arrived on a Sunshine coach from their zany headgear to their socks and sandals and carrying a flamingo pink guitar and Rolf Harris Stylophone – the set is, in fact, very well constructed. And thanks to the inescapable use of words such as 'you', 'me', 'it' and 'love' in song lyrics, they can keep updating their playlist with new chart hits to keep sounding topical.
In their press quotes, the duo proudly quote one reviewer saying 'give them their own show' – which would quite clearly be a disaster, as what they most revel in is their low-fi unfashionability, a joke that would quickly wear thin.
But for 20 minutes on a comedy club bill, their gleefully tacky slapstick, prop-based variety act provides a welcome surge of upbeat energy. And as such a diversion, they're pretty irresistible.
Review date: 1 Jul 2005
Reviewed by: Steve Bennett
What do you think?