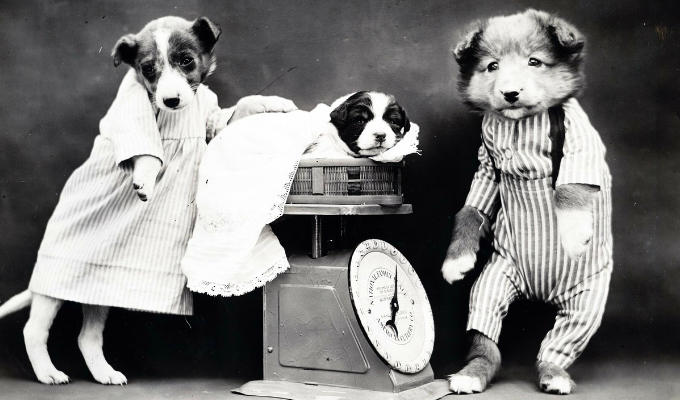 I've been learning how to guess the weight of dogs...
Tweets of the week
Just voted. Turnout low and polling station staffed entirely by bewildered primary school children. Make of that what you will.

— Bob Servant (@bobservant) May 7, 2021
I gave my ballot paper an entire tray of Ferrero Rocher. I think I might have spoiled it#PollingDay

— Sanjeev Kohli (@govindajeggy) May 6, 2021
I once broke up with a girl for doing a May the 4th be with you joke. I did it the next day though, and called it revenge of the fifth.

— Jake Lambert (@LittleLostLad) May 4, 2021
I knew my ex gf was going to dump me so i set up a profile called "Add Profile" on her Netflix account and 3 yrs later i'm still watching

— alien skier 👽👽👽 (@clichedout) May 2, 2021
Been learning how to guess the weight of dogs - picked up a few pointers yesterday

— Olaf Falafel (@OFalafel) May 6, 2021
I'm trying to organize a hide-and-seek tournament.

But good players are really hard to find.

— Jon Moses (@jonmosesvocals) May 5, 2021
Whoever called it gym membership and not the fitness protection programme?

— June (@rejunevate) May 1, 2021
My friend boats he can throw a stick a mile and his dog will still bring it back, but I think that's a bit far-fetched.

— Gary Delaney (@GaryDelaney) May 5, 2021
Guy who invented the clock: there will be 12 numbers on it

Friend: so the day will be divided into 12 segments?

Inventor: no, 24

Friend: so will the day start at 1

Inventor: the day will start at the 12, which is at night

Friend:

Inventor: the 6 means 30

— llama (@LlamaInaTux) May 5, 2021
Published: 7 May 2021
Recent Punching Up
What do you think?