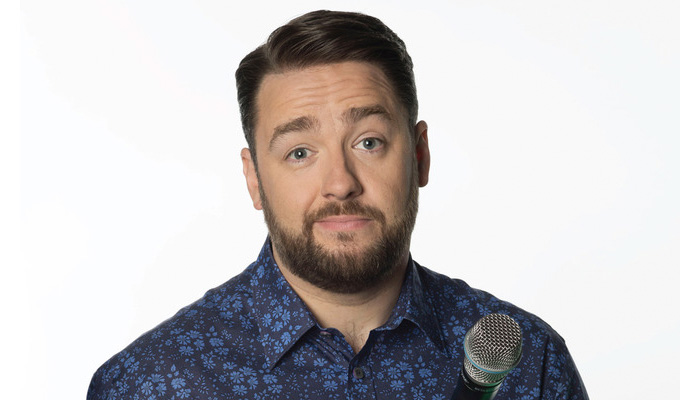 Jason Manford: The time I nearly cost my employers £50,000
Jason Manford has revealed how he almost cost a radio station £50,000 when he accidentally gave away the answer to a big-money competition.
And his bacon was only saved because of Johnathan Ross and Russell Brand.
The incident happened about a decade ago, when the comic was employed by the station, which he did not name, and charged with running a hangman-style phone-in contest.
Listeners had to call in, guess a letter, and be told where in the mystery phrase it occurred, then have a stab at guessing it.
Manford said the aim was that the game would run for weeks, as 'you'd stretch it out'.
His mistake happened soon after the competition launched. 'It was a massive phrase, like 30 letters, and we'd only got one letter on there,' he said on his Absolute Radio show this morning.
He explained that he was 'checking the desk' and ensuring the all was in order, and double-checked with his producer that the phrase was 'a bird in the hand is worth two in the bush'.
Manford then took the call, and the listener plumped for the letter B, before he asked her: '
Do you want to take a random guess?'
And she said: 'Is it, "a bird in the hand is worth two in the bush"?'
'Like second go!,' Manford explained. 'This was supposed to last weeks!'
'I had left the fader up and she heard.
'It was that moment when your stomach goes urgh and your blood runs cold.'
Manford's only got off the hook because the call had been recorded, and did not go out live. He explained that precaution was only in place because in the wake of the Sachsgate scandal of 2008 – when Brand and Ross left crude messages on the answerphone of Fawlty Towers star Andrew Sachs during their Radio 2 show – 'radio was afraid of everything'.
'In the end they had to speak to her on a legal letter and say you sort of cheated,' he said. 'But that was still some expensive mistake because we had to give her something. You can't have that getting out, though I've just told everyone on national radio.'
After telling the story, he asked listeners to his Absolute Radio show this morning to call in with their most expensive mistakes.
Published: 26 Jan 2020
What do you think?