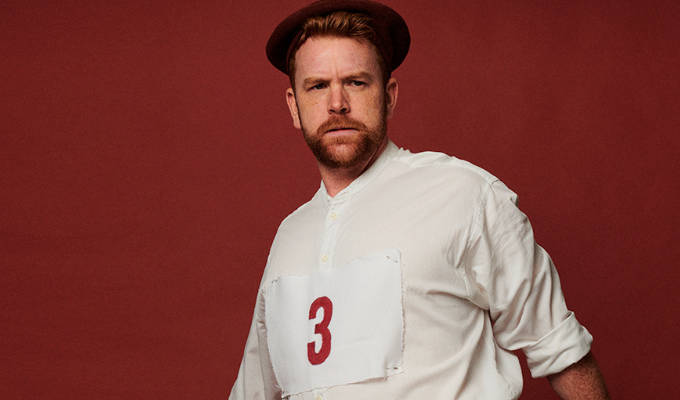 'Its gentle comedy is like a lovely warm bath for the brain'
New Zealand comedy award winner Nic Sampson comes to London this week with his show about 'one of the dumbest sporting events of all time': the marathon at the 1904 Olympics in St. Louis, Missouri. Here he shares some of his comedy favourites.
---
Feel Good
I'm not sure if this counts as an out-and-out sitcom since there is a lot of heavy subject matter being explored, but even though it gets quite dark, this show never stops being so, so funny.
The writing balances emotional truth and utter silliness so deftly it's like magic, Mae Martin's performance is incredible, and Charlotte Ritchie deserves some sort of high award for this line reading. Also, everything that Jack Barry does in season 2 made me laugh so much.
Joe Pera Talks With You
My wife and I got very into this show during lockdown; its gentle comedy is like a lovely warm bath for the brain.
Comedian Joe Pera plays this very sweet, sort of fictionalised version of himself living in Michigan, teaching high-school music, and monologuing about his mundane life.
It's a lovely, slow burn of a show. The comedy comes in at the edges: from his draconian self-imposed rules for getting through the supermarket without overspending, his unbridled joy at listening to The Who for the first time, and the little glimpses into the secret mad lives of the supporting characters (especially his survivalist girlfriend Sarah played by the brilliant Joe Firestone).
I love it.
Peep Show
Peep Show is probably the sitcom I've rewatched the most over the years. I've spent countless hours seeing the world from inside the disgusting little brains of Mark and Jez as they inexorably destroy their own lives and the lives of everybody who comes in contact with them. The writing is just so sharp and funny and horrible.
Flight Of The Conchords
I've idolised Flight Of The Conchords since I was a teenager. I had a bootleg CD that I would listen to after school while waiting for improv class to start (yes I was a very cool teenm OK). I even started my own high school comedy band inspired by the boys. We did lunchtime concerts at local girls schools and somehow didn't end up with our own HBO show.
I got to finally meet Jemaine Clement a few years ago, but unfortunately it was while he was directing a very awkward sex scene I was doing for a movie. He was very lovely and nice, and in the end the scene got cut.
I Think You Should Leave
This show kind of blew my mind with the way it can take an often quite simple idea, and drag and twist it into something just so utterly desperate and painful and stupid that you're crying with laughter.
The hit rate of laughs for a sketch show is also so insanely high. The season 2 sketch with Bob Odenkirk is my current favourite, though that will change in a week or so.
Stath Lets Flats
The funniest show on TV at the moment. Every person involved is just so funny. For some reason my favourite bits are always the singing - especially Sophie (Natasia Demetriou), Katia (Ellie White), and Al (Al Roberts) rehearsing and performing their song about women's rights. Also every scene that Katy Wix is in. Also every disgusted facial expression that Kiell Smith-Bynoe pulls.
Starstruck
I'm a little biased but I want to add to this list Season 1 of Starstruck, written by my friends Rose Matafeo and Alice Snedden. They created an instant classic and I'm in awe of them. Sorry if that's not cool to say.
• Nic Sampson's Marathon, 1904, runs at the Soho Theatre from Thursday to Saturday this week, telling the story of the Olympic race which 32 people started – and only 14 finished, thanks to a 'perfect storm of incompetence, stupidity, betrayal, cheating, wild dogs and rat poison'. Tickets
Published: 9 Nov 2021
What do you think?