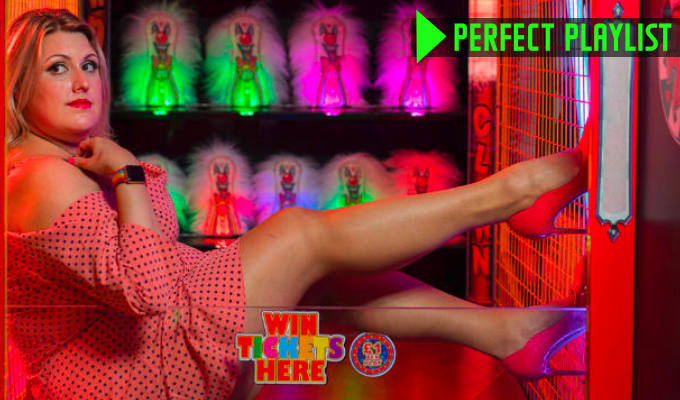 Never meet your idols... because you might make an irredeemable prick of yourself
Comedian Vix Leyton shares her comedy favourites as she prepares to host a live version of her podcast, The Comedy Arcade, at the London Podcast festival this weekend…
---
Eddie Izzard: Circle
I have been a huge comedy nerd since I was a child. I watched everything I could lay my eyes on, from Live At Jongleurs late at night to The Fast Show, and I would listen to full length shows with the intensity and regularity other teenagers listened to their favourite albums.
Eddie Izzard by far got the most play - I was basically word perfect on them (probably still am) and I studied the speech patterns for my A-level English coursework.
I have picked Circle above all the others because I had a deeply unfortunate incident that very much backed up the message of never meeting your idols – not necessarily because they'll disappoint you, but because there is a chance - if you're someone like me - that you'll make an irredeemable prick of yourself.
I rolled up to Eddie at an event, drunk as balls, and proceeded to murder a rendition of Death Star Canteen and the toaster sketch to her polite, nonplussed face, breaking only to repeatedly offer to buy her a drink on a weird conversational carousel, ending with them indicating her very full glass of red.
I keep hoping to run into her again so I can apologise, but I suspect deep down that it would start as an apology but end up with me just doing the whole harrowing thing all over again. I think about it before I fall asleep on a monthly basis.
The News Quiz
The News Quiz has talked me to sleep for over a decade. I borrowed my friend Simon's podcast to go on holiday with years ago and as there were loads of episodes already on there and I had a long flight, I gave them a go, and got completely hooked.
It was my first introduction to some of my favourite comedians, and when Susan Calman and Jeremy Hardy were on you knew you were in for a good one.
Having had his voice in my ears so regularly, I was absolutely devastated when Jeremy Hardy died - his wit and turn of phrase was spectacular.
Host of The News Quiz has been my professed dream job since the day I started listening, even before I put a toe into comedy, and I used to have a photo of Sandi Toksvig on my CV.
Suzi Ruffell: Dance Like Everyone's Watching
Having done a few months of comedy, I took myself off to the Edinburgh Fringe in 2019 for the first time as a punter to experience the whole thing with the aim of seeing so many shows that my eyes bled.
Suzi's show was my stand-out favourite of the whole festival - it was lighthearted, full of hope, clever stories and some gorgeous relatable moments that had me elbowing my friend mouthing, 'That's us!!', while everyone else in the room was doing the same.
To have something resonate so personally with so many people is an incredible gift, she made it look effortless, and it demonstrated exactly the kind of show I aspire to write one day. An hour of pure joy.
The Thick Of It
I'm a PR person as a day job; Malcolm Tucker is one of the few representations of a press officer / spin doctor you see on TV which in no way helps my mum understand my job but he is so demonically good that I can't be mad about it.
The Thick Of It has such a beautiful blend of civil service mundania and believable French farce / chaos, and so many quotes from it live rent free in my head.
Even minor characters are perfectly rendered and if I don't know what to watch, that inevitably goes on, like a soothing screensaver for my mind.
Mark Watson: The Infinite Show
I've been a huge fan of Mark Watson since he was a regular fixture of the Cardiff Glee club.
Sorting the comedian was my only job when I was working on a corporate event as my first ever PR job, I booked Mark as I thought if nothing else I would enjoy it, and he completely brought the house down. I got loads of praise for my clever choice from the business that I absolutely did not deserve and it properly started me off on the right foot.
It was therefore very odd to come across him again a decade or so later and be challenged to learn stand-up to get over a fear of public speaking at one of his legendary long shows, where he inadvertently influenced my life again and started me in comedy.
I saw The Infinite Show a few times after that in the first year I was rattling around open mics, bringing different friends to experience it with an evangelical zeal.
The nature of the show - giving out cards inviting people to share things to riff on - was so cool and different that it was like seeing a different show every time.
Rob Kemp: Agenda
Everyone (rightly) talks about what a masterclass The Elvis Dead (below) is, but I was also lucky enough to catch Rob's new show 'Agenda' in Monkey Barrel at Edinburgh last month and I am still thinking about it.
By Rob's own admission, it's in the very early stages of work in progress, but it was enjoyable exactly as it was and I cannot wait to see where it goes.
I don't want to give anything away as spoilers, but it had a huge amount of heart and honesty, made me laugh helplessly and also made me cry - not an easy feat in the brevity of an hour. It's honest, brave and cool and I think a lot of people will get a lot from it. If you can catch it, you should.
There has been a fair bit of chatter around putting a value on work in progress shows recently, but I personally think it is an absolute privilege worth paying for to see the start of a show like this and track it through to the finished thing.
• Vix Leyton hosts The Comedy Arcade podcast, which is staging a live version at the London Podcast Festival in Kings Place, Kings Cross on Sunday with guests John Robertson, Rich Wilson, Esther Manito and podcaster and musician Sean Smith. Tickets are here.
• Read our review of a live show from the Camden Fringe here.
Published: 7 Sep 2021
What do you think?