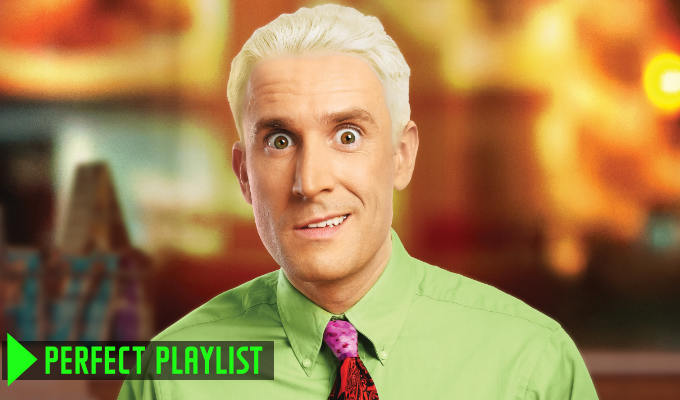 'The rate of jokes per minute is so high...'
Brendan Murphy is heading to the Edinburgh Fringe later this month with Friend (The One With Gunther)… an hour-long dash through all 236 episodes of the hit sitcom, as seen through the eyes of the Central Perk barista. Here he shares his comedy favourites…
---
Spaced
The perfect British sitcom. Simon Pegg, Jessica Hynes and Edgar Wright are now comedy icons, but back then they were the underdogs. Some of the cast had just been in Big Train, which had come out the year before, and I remember thinking that was so cool. A sketch show *and* a sitcom?! AT THE SAME TIME?
Watching as a teenager in Birmingham, I was absolutely convinced that a) I had to move to London b) the time I'd spent watching TV shows and films was not wasted (how else would you get all the great references?!) and c) there is no move more baller than having a secret stash of Jaffa Cakes in your coat pocket.
Dumb & Dumber
Hands down the one film that I've watched more than anything else. I absolutely loved Jim Carrey when I was growing up - in fact, my brothers and I loved this movie so much we recorded the audio from our VHS onto an audio cassette tape so we could play it in the car. Sorry, mum and dad!
Funny, stupid, brilliant performances and infinitely quotable moments sprinkled throughout. It might not be high art, but I defy anyone to get through this film without being brought to tears with laughter.
I Think You Should Leave with Tim Robinson
This is the funniest, weirdest shit I've seen in years. All of the sketches have a brilliant, bizarreness to them. It feels like a lot of the material must have originated from improv (Tim Robinson being ex-Saturday Night Live cast as well as Second City & iO alumni), but it's been peerlessly honed into tightly scripted perfection and produced by the guys from The Lonely Island.
Dave Chappelle
Chappelle's the best. Smart, funny and not afraid to keep pushing boundaries. One of the finest stand-ups alive, a great writer and performer in Chappelle's Show and consistently delivers the goods in whatever he's involved in from Robin Hood: Men In Tights to A Star Is Born. He'll also forever hold a special place in the heart of every stoner thanks to his sterling work in Half Baked.
Bojack Horseman
It's funny, clever, dark, moving, stupid, surreal and doesn't shy away from exploring the existential dread that keeps awake at 4am on a Tuesday night. Bojack Horseman should be compulsory viewing for anyone planning on a career in the arts.
There's a little bit of Bojack in all of us, and when it's not kept in check that's when the bad things happen. Also, it's a funny cartoon about a talking horse. What's not to love?!
Friends
I mean... How could I not?
The hit rate of jokes per minute is so high, and the quality rarely drops, but the reason it managed to capture the imagination of so many people around the world is the unique combination of superb comedy acting (each of the main six actors is fantastically well cast, not a weak link among them) and the welcoming sense of 'friends as family' and that familiarity that they managed to maintain across all ten seasons.
Like a warm cup of tea, a cold beer or a hug from pal - it's just what you need when you're feeling a little out of sorts and the world's a better place for having it there.
• Friend (The One With Gunter) plays at the Pleasance EICC at 6pm from August 16 to 29. Tickets.
Published: 5 Aug 2021
What do you think?