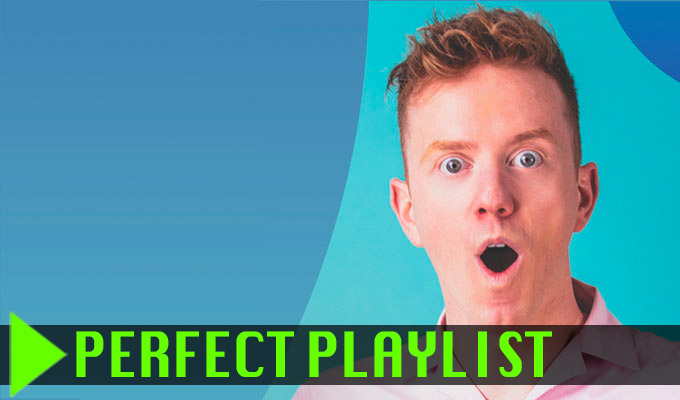 Alan Carr made me want to be a comedian!
Keeping Up Appearances!
Forget the Kardashians, we should be keeping up with Hyacinth! If you haven't seen this show the IMDB description is very relatable: 'a snobbish housewife is determined to climb the social ladder.
My favourite scene is 'holiday brochures' from Series 3, Episode 4. 'It's very vulgar to go boasting about one's holiday plans…' So while entertaining her neighbour Elizabeth over coffee, Lady Bucket (pronounced: Bouquet. Obviously) carefully places her QE2 holiday brochures on the table in the hope that Elizabeth will get jealous. I love it so much; it's exactly how I'd behave if I didn't have Instagram.
Russell Howard Cancer Boy
Some of the best comedy can hit us on a deep, personal and sometimes profound level. It's the reason I'm hitting the stage at the Edinburgh Fringe this year. I've found life pretty challenging in the last year, but to share my journey and laugh at it is power - and I'm so inspired by Russell Howard.
This is stand-up at its absolute best. Russell tells the story of a fan battling cancer by fighting his fear with 'funny'. Fourteen-year-old Darren wants his favourite comedian to wear a throbbing six-foot cock costume to his funeral… No spoilers, hit play.
'Get your hands off my miscarriage!' - Fleabag
Ok, so not exactly a conventional one-liner. I'm obsessed with comedy that makes you laugh and cry at the same time, and Phoebe Waller-Bridge manages to write that kind of shock-and-recoil-comedy to perfection, time after time.
In this scene from Fleabag Series Two, it's especially real. Fleabag's sister Claire is the epitome of an uptight British person, from bad haircuts to a failing marriage, she struggles to deal with her emotions every step of the way.
'Get your hands off my miscarriage,' is so wonderfully on game for Claire, that it both made me laugh and cover my mouth in shock at the same time. Her next line, 'it's mine' segues so beautifully into relatability that the sequence of events is completely earned. A miscarriage is a very normal human experience and it's incredible to see it dealt with so masterfully.
Alan Carr made me want to be a comedian. This is one of my favourite stand-up shows ever!
Alan's outrage at having to cook for people with nut allergies is so brilliantly un-woke. 'In the good old days they just used to die didn't they…?'
People say you can't be funny without offending someone. I don't necessarily believe that to be true. In this clip, Alan carefully hates on organic produce, friends with dietary requirements and animal rights without managing to offend. I think it's because both Alan and his audience know exactly who he is; an out gay man who sounds like your Nan and who's not afraid to say what he thinks.
It Should've Been Me! - The Vicar Of Dibley
I've had more than one 'One that got away', it's something I explore at length in my Edinburgh show Thirst Trap.
I found out my ex Matt had cheated on me by finding a condom in his bin, during a routine search… he's now happily married to that guy!
I relate to this scene on a very personal level. In 'The Handsome Stranger', Geraldine meets an accountant, instantly falls in love but then spots him with another woman. This leads to a hilarious vision in which Geraldine imagines Harry marrying someone else and disrupts their wedding to sing Yvonne Fair's anthemic It Should've Been Me. A mood. I'll be posting this clip on Matt's Facebook wall.
Catherine Tate: Rustic Lodge
There are so many Catherine Tate moments I love: 'How very dare you', 'Totten-Ham' and the amazing woman on edge at a toaster popping, but the Rustic Lodge ginger refuge centre is a particular trigger for me. Haha!
I was bullied for both being ginger AND gay at school, so I find the themes of homophobia and gingerphobia being mapped together hilarious.
Catherine's character is victimised for her flame-red hair, her freckles and pale skin and sent off to a refuge centre with a bag over her head.
My favourite moment occurs during a fight about a strawberry blondes' right to remain, in which the centre's therapist starts an impassioned speech about gingerphobia 'Duracell head', 'Carrot top', 'Total strangers assuming we're Scottish!'. This clip is both hysterical but also features a really cute message of inclusion.
I'm not crying you're crying… oh god and now my fake tan is running.
• James Barr: Thirst Trap is at Underbelly Cowgate at 17:20 during the Edinburgh Fringe. Details.
Published: 14 Aug 2019
What do you think?